Historic Film Withheld 36 Years
THE DELIBERATE WITHHOLDING, for 36 years, of 95,000 feet of colour film showing the post-atomic-attack destruction and people of Hiroshima and Nagasaki is as good an example as any of why more people, including journalists, are less concerned than they should be about the danger we're in from nuclear weapons.
The film (enough to make 30 feature-length movies) was taken by a U.S. film crew on the direct orders of U.S. President Harry Truman, the only person so far to order a nuclear attack.
It was immediately classified "top secret" and concealed from the public. Few people even know the film exists. It would still be hidden away were it not for Herbert Sussan, now retired and living in New York City after an award-winning career in television.
Sussan knew the film existed and had never been able to forget it. When he was 24 years old, he was the production director for that movie crew sent to Hiroshima and Nagasaki.
The whole story is told in a five-page article, "Why The Bomb Didn't Hit Home," in the March issue of Nuclear Times. Here are some edited excerpts:
* * *
Before going overseas, Sussan had been assigned to a motion picture studio in Culver City, California producing training films for the Air Corps. His squadron commander was Lieutenant Ronald Reagan.
* * *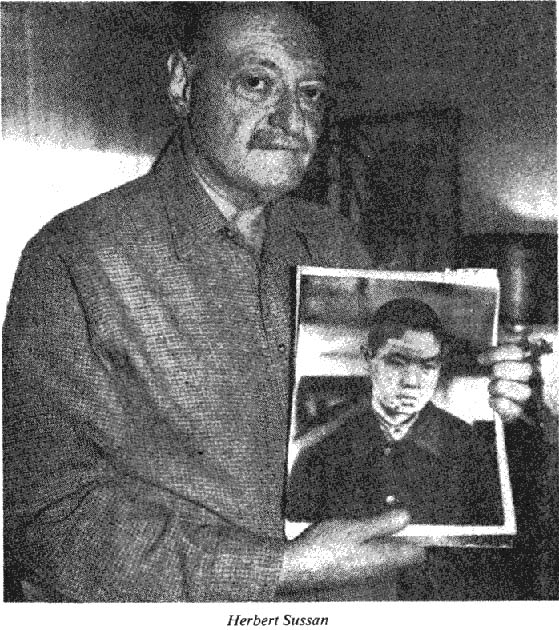 "Nobody had prepared us for what was in this city (Nagasaki) as we went in. I was shocked. I could not believe what one bomb . . . could do. I felt that we were here in this moment, which hopefully would never be repeated, and if we didn't get a picture of what's happening — this holocaust — nobody would ever know," says Sussan.
* * *
After ordering all of the colour film available in the Pacific, Sussan's unit began filming the ruins and the survivors.
* * *
"We took pictures in Hiroshima," Sussan recalls, "where vaporized bodies — the remains of people in the shelters — were given back to relatives in little wooden boxes. That's what was left of people in the shelters."
* * *
The crew was abruptly ordered to bring the unprocessed film back to Washington in June 1946. At the Pentagon "the military police took the footlockers containing the reels of film . . . to the Pentagon basement," Sussan recalls.
Sussan reported to Major General Orvil A. Anderson, who headed the Military Analysis Division of the Strategic Bombing Survey. General Anderson, among others, thought it might be a good idea at that time to unleash an atomic attack on the Soviets . . .
* * *
Allied occupation officials in Japan were keeping strict control of all media coverage coming out of Hiroshima and Nagasaki; the United States denied, officially, that radioactivity was harmful.
* * *
Besides concealing the Sussan footage, the American government confiscated all of the footage taken by Japanese film crews in Hiroshima and Nagasaki, and declared it top secret, too.
* * *
In 1948 Sussan joined CBS in New York, the first step in a career that would win him many awards, including an Emmy and a Gold Medal from the Freedom Foundation. At CBS he met Edward R. Murrow who as host of "See It Now" was the most influential newsman on television. Sussan wanted to make a documentary, narrated by Murrow. "But he investigated and felt, no, it wasn't the thing for him to do. I was shocked by his lack of interest." (One of Murrow's close friends was David Lilienthal, first chairman of the Atomic Energy Commission).
* * *
Earlier, Sussan was told in a letter from the White House (he had personally appealed to President Truman to release the film) that "parts of (his) footage had been assembled by RKO studios into four military training films" which would "lack public appeal."
* * *
Sussan became senior producer for NBC's heralded "Wide Wide World," a 90-minute Sunday afternoon program. He approached NBC News, and co-anchor Chet Huntley, about obtaining the footage. "But NBC News felt this was not a subject they wanted to get into."
* * *
Sussan kept asking if the film could be declassified. He asked Defence Secretary Neil McElroy in 1956 (Sussan met him while producing "Force for Survival," a program saluting the armed forces); Attorney General Robert Kennedy in 1962 (Sussan was doing a 1962 series called "The Law Enforcers"); former president Truman (Sussan arranged the filming of the 39-part series "The Decisions of Harry Truman". All said the film could not be released. Finally a friend obtained from the Pentagon the four military training films. Sussan watched just a few minutes before becoming ill. One of the films, titled "Strategic Attack", showed how to use an atomic bomb in battle. The narrator of at least one of these films was Edward R. Murrow.
* * *
Top brass in the Pentagon and the Atomic Energy Commission wanted the footage "buried," according to Daniel McGovern, a self-described "conservative" who admits he "had control" of the film for many years at Norton Air Force Base in California. McGovern wanted to make military training films from it but "I was told by those people that — hell and damn no — they did not want that material shown because it showed the horrible effects on man, woman and child. They were fearful of it being circulated."
* * *
The film might still be hidden were it not for a chance encounter during the first Special Session on Disarmament at the United Nations (UNSSOD I) in 1978. (That was the session at which Prime Minister Trudeau made his speech suggesting the arms race be "suffocated" by ceasing the technological development and testing of missiles, such as the cruise.) But something more important than Trudeau's speech happened. Sussan visited an exhibit of Hiroshima — Nagasaki photographs set up by the Hiroshima-Nagasaki Publishing committee. The exhibit's chief co-ordinator was Tsutomu Iwakura, who was surprised to learn from Sussan of the existence of the colour film.
Iwakura started looking for it and was successful the next year at the U.S. National Archives, where it had been sent after being declassified without anyone including Sussan having been notified.
* * *
Nearly 500,000 Japanese have contributed to the H-N committee's Ten Foot Campaign, donating $12 to $15 to purchase 10 feet of the film. Iwakura's group has produced two films from the footage so far. The only American film to use Sussan's footage is Dark Circle, which premiered at the New York Film Festival last fall.
* * *
Sussan may have suffered ill effects from radiation. He has been stricken with lymphoma, a form of cancer common among atomic bomb survivors and people exposed to fallout from atomic tests. The disease has an extremely long latency period. He has been too ill lately to renew his fight to get some of the footage on network television.
* * *
"All I want to do for the next two to five years, or whatever time I have, is to work to make people understand that this kind of weapon must be erased from the face of the earth," Sussan says. "They must understand the dimensions they're dealing with."
* * *
Herbert Sussan feels it's ironic that he was sent to Hiroshima and Nagasaki in 1946 while his boss, Ronald Reagan, stayed behind at a film studio in California. "Reagan," Sussan notes, "still doesn't know the true effects of the bomb, obviously."
Published in SOURCES Summer 83
---
Sources
sources@sources.ca
Tel:
Copyright © Sources, All rights reserved.