Journalist
From Wikipedia, the free encyclopedia
A journalist is a person who practices journalism, the gathering and dissemination of information about current events, trends, issues and people.
Reporters are one type of journalist. They create reports as a profession for broadcast or publication in mass media such as newspapers, television, radio, magazines, documentary film, and the Internet. Reporters find the sources for their work, their reports can be either spoken or written, and they are generally expected to report in the most objective and unbiased way to serve the public good.
Depending on the context, the term journalist also includes various types of editors and visual journalists, such as photographers, graphic artists, and page designers.
[edit]
Origin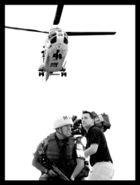 In the early 19th century, journalist simply meant someone who wrote for journals, such as Charles Dickens in his early career. In the past century it has come to mean a writer for newspapers and magazines as well.
Many people consider journalist interchangeable with reporter, a person who gathers information and creates a written report or story. However, this overlooks many other types of journalists, including columnists, leader writers, photographers, editorial designers, and sub-editors (British) or copy editors (American). The only major distinction is that designers, writers and art directors who work exclusively on advertising material - that is, material in which the content is shaped by the person buying the ad, rather than the publication - are not considered journalists.
Regardless of medium, the term journalist carries a connotation or expectation of professionalism in reporting, with consideration for truth, fairness, balance, decency and ethics - although standards can vary widely between publications. Some mass-market newspapers make no pretence of impartiality, though, in countries such as the UK, they generally adhere to an industry-wide code of conduct -- such as maintaining truthfulness. Some editors argue that lack of bias is impossible to achieve, so it is, in fact, more honest to adopt an editorial opinion while ensuring material is factually accurate
[edit]
Modern journalists
The explosion of modern media, including the creation of Internet-based news sources and the possibility that citizen journalism will greatly expand the field, has made it all but impossible to identify which journalists are notable, in the sense that they could be identified in the past. The global justice protests in Seattle (1999) gave rise to the independent media movement, exemplified by the Indymedia network, a collective of independent media organizations and hundreds of journalists offering grassroots, non-corporate coverage.
[edit]
Ethics in Journalism
Most journalists in the USA adhere to the standards and norms expressed in the Society of Professional Journalists ethical code.[1] Foremost in the minds of most practicing journalists is the issue of maintaining credibility, "Professional integrity is the cornerstone of a journalist's credibility."[1]
[edit]
References
[edit]
External links