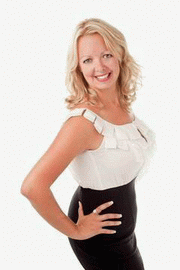 Finding the G Spot: A Sassy, Sensible, Entertaining Approach to Finance
June 22, 2011
Finding the G Spot: A Sassy, Sensible, Entertaining Approach to Finance
By Jenn Killins
Finally, finance has received a much needed makeover! Jenn Killins takes the intimidating and sometimes boring subject of finance and injects life and excitement into it. Finding the G Spot is a "keep it simple" approach to finance, with a refreshing short story within each chapter. This is a one-of-a-kind book that will not only entertain, but will also enlighten and educate. Finding the G Spot is bold, humorous and sassy; it will give people the conviction they need to take control of their finances.
A first ever for finance - Finding the G Spot not only recognizes emotion to be a key part of finance, but embraces it. It doesn't tell you not to buy that daily coffee, those designer shoes, or your dream car, but instead shows you how you can! Regardless of what stage or age you are in the game of life, this book has something for you. It is a must read for all Canadians.
Reviews
"Reads like an exciting novel with a lot of common sense splashed all over it."
"This book has reinforced the valuable lessons that we have begun to learn from Jenn. It should be introduced into the school curriculum. It will be a staple of my future gifts. This book is an amazing life tool."
"She keeps the audience not just awake, but begging for more!"
"I never thought that I'd actually enjoy reading a finance book but I had to force myself to put it down!"
"I laughed, cried, learned a lot and even got a little turned on; I never would have thought that possible for a book about money. Thank you! I feel I can manage my money now and it's not stressful anymore!"
About the author:
Jenn Killins is a financial planning expert, speaker, author and media personality. Jenn has an unbelievable and creative way of keeping finance simple. She engages the audience with her entertaining approach and sincere personality. Jenn is bold, humorous, sassy and empathetic as well as being a strong advocate for the passion she has for the "G Spot".
http://www.sources.com/Listings/Subscribers/L4333.htm
To learn more about Finding the G Spot, book Jenn for an interview or as a guest speaker for your next event.
Topics may be customized and include the following:
- Finding the G Spot: A Sassy, Sensible, Entertaining Approach to Finance ( all about the book )
- Emotion vs Logic: how to live for today with a smile on your face and plan for tomorrow ( a session on positive attitude and really living happily with your money)
- Take This Mortgage & Shove it! Everything you need to know about Mortgages.
- Who's in Your Wallet …where to turn for help with your Finances.
- Budget 1.2.3. ….Budgeting that actually works and doesn't hurt!
- Damn you Debt…you're in it ...now what do you do?
- Mr. C.I. ….who is this guy? 2 ways to make money: 1. You make it. 2. Your money makes it for you.
- I have a Goldfish ….not a dog, a goldfish! Personal Insurance 101.
- Little Johnny ...what's so funny? ...How to support post secondary education.
- Bulls, Bears & Rats …understanding the market and the animals in it.
- Rules of Jenn… some are made to be broken!
This is what Canadians have been waiting for - A sassy, sensible, entertaining approach to Finance. No longer is finance in a reactive state. Engage and be proactive. Finding the G Spot …because isn't that what it's all about?
Book information:
Title: Finding the G Spot
Paperback
Publication Date: June 2, 2011
Price $19.95 plus HST
ISBN: 978-0-9869481-0-7
Pages: 256
Size 5.5 x 8.5
To order call: 1-866-330-9777
Also available at www.dollarsandsense.info and www.amazon.ca
Contact: Jo-An Lauzon
519-578-4334
Jo-an@dollarsandsense.info
For more information contact
:
Jo-An Lauzon
Special Projects Manager
Dollars & Sense, Finding the G Spot Ltd.
Phone: 519-578-4334
Cell: 519-831-7343
Email: jo-an@dollarsandsense.info
Website: www.dollarsandsense.info
Jenn Killins
Authour
Dollars & Sense, Finding the G Spot Ltd.
Phone: 519-578-4334
Cell: 519-275-7760
Email: jenn.killins@dollarsandsense.info
Website: www.dollarsandsense.info
Click here to view our Sources Listing:
Topics: