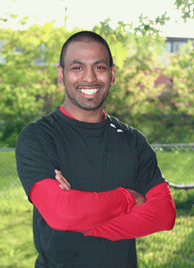 Quit Yo-Yo Dieting - Lose Weight Permanently Now
April 16, 2009
We live in the day of the "yo-yo" diet, and unfortunately many women find themselves struggling to lose weight, with diet after diet. Often weight is lost and they get results with their diet, only to regain the weight all over again, and sometimes more. While many women are feeling as if they are on a dieting roller coaster, Marci Lall, a certified personal trainer in Toronto has released a new free report on yo-yo diets including top information and strategies on losing weight permanently.
Within this free report on losing weight permanently, 10 tips are provided by Lall that are designed to help women stop the roller coaster diets and lose weight for good. After trying diet after diet, many women become quite disillusioned, disappointed, and frustrated with negative results. Marci introduces the concept of positive thinking and setting goals to achieve weight loss. According to Marci, "One thing's for sure is that overweight women already struggle with their body image. When all your hard work doesn't pay off fast enough, it's very easy to get discouraged." Most women deal with this discouragement when working to lose weight, which is why Marci focuses on keeping a positive outlook on the journey to weight loss.
Part of this free report also focuses on eating healthy for weight loss. Too many diets restrict foods and only allow people to eat very little. This report brings out that dieting really is not a great way to lose weight and it is not effective. However, Marci brings out that there are foods that can aid with weight loss if you eat a healthy diet. Starving is not a healthy method of weight loss, but women can eat healthily while still losing weight.
Stress is a big problem for many women trying to lose weight - another issue addressed in this report by Marci Lall. Marci teaches women how to combat stress with exercise to bring about health benefits and weight loss. He also brings up that finding time for yourself is important to your health and weight loss plan as well. Marci makes this point by saying, "There are many ways to focus on your health and happiness. The very first step is to slow down long enough to make the decision to find the time…find an exercise routine that you enjoy and that gives you personal satisfaction, and give yourself time to do it."
This report includes other important tips on avoiding diets, exercising, and more. It is available for free for only a limited time as a way to help women stop yo-yo diets to find methods of real weight loss that is for good.
To learn more or to get your free report, visit http://www.theyoyodietreport.com for more information.
About:
Marci Lall is a specialist in weight loss and body sculpting, teaching women how to increase metabolism and decrease body fat. Since 2002 Marci has been involved as a personal trainer in the fitness industry, and before that period spent time participating and instructing karate classes and sharpening high school wrestling skills.
Currently Marci offers body sculpting and weight loss programs for women, including group training, training online, and one on one training. He also is involved in Feminine Fit Institute, a body sculpting and weight loss community for women as their head moderator.
Marci particularly specializes in helping women solve their weight loss issues and has a passion for helping women meet their weight loss goals.
Contact:
Name: Marci Lall
Company: Feminine Fit Institute
Address: 18B-3200 Dufferin Street, Suite #104Toronto, ON, M6A-0A1 CANADA
Phone: 416-846-6907
Website: www.theyoyodietreport.com
Email: support@femininefiti.com
###
For more information contact
:
Marci Lall
Feminine Fit Institute
Phone: 4168466907
Email: marcilall@me.com
Website: www.theyoyodietreport.com
Topics: