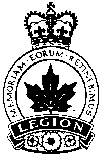 Poppy Campaign Begins 30 October
October 27, 2009
27 October 2009 NREL/PC-01
For Immediate Release
Poppy Campaign set to start
Ottawa – The annual Poppy Campaign starts this year on 30 October. The tiny red floral symbol, trademarked by Dominion Command of The Royal Canadian Legion in Canada, is the national symbol of Remembrance. It is distributed through Legion branches to raise funds in support of veterans across the nation.
"Our 1,500 branches and their volunteers will be out distributing the poppy and collecting donations until 10 November," says the Dominion President of The Royal Canadian Legion, Mr. Wilf Edmond of Donkin, N.S. "We want all Canadians to wear one of these symbols in Remembrance of those who have made the ultimate sacrifice to keep our country, and others, free from tyranny and oppression."
The poppy is distributed by the Legion′s branches and the monies collected goes into branch poppy trust funds. These funds can only be used under strict guidelines set up by the Poppy and Remembrance Committee of Dominion Command to improve life for people in the communities where the money is raised. These guidelines are published in a manual which is available to all of those involved in the distribution of funds.
"Funds raised through the distribution of poppies can be used for a number of things," explains Mr. Gord Moore of Elmira, Ont. He is a Dominion Command Vice-President and Chairman of the Poppy and Remembrance Committee. "But they all have ties to veterans causes and needs. That could involve housing projects for veterans and senior citizens to providing meals-on-wheels or paying for medical research and appliances."
The poppy has been in use as a symbol of Remembrance in Canada since 1921 when it was first used by the Great War Veterans Association (GWVA). The Legion, which now incorporates the GWVA, has carried on that tradition of distribution to help needy veterans and their families.
People who wear the poppy show that they care, like the Legion, about the sacrifices of 117,000 Canadians who have died in the military service of Canada since it became a nation.
-30-
For more information contact Bob Butt at 613-591-3335.
For more information contact
:
Robert Butt
Director Communications
The Royal Canadian Legion
Phone: 613-591-3335
Email: bbutt@legion.ca
Website: www.legion.ca
Topics: