Announcement
SOURCES
Barrie Zwicker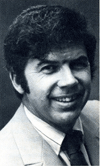 Effective immediately, Barrie Zwicker succeeds Mary Walsh as Advertising Sales Manager of SOURCES.
Mr. Zwicker is Publisher of SOURCES, The Directory of Contacts for Editors, Reporters and Researchers, which he founded 10 years ago as a 32-page supplement. The Anniversary Edition to come out in June will be about 350 pages.

Formerly a writer and editor on The Globe and Mail and Toronto Star, Mr. Zwicker is active as a media critic in print, lectures and broadcasts.

SOURCES provides unique information on 4,000 contact persons in more than 800 corporations, government ministries and agencies, universities, churches, charitable organizations, unions and associations. The publication now features Parliamentary Names & Numbers.

SOURCES has also become a PR networking resource and general corporate reference work.

The new telephone number for Display Advertising and Listings is (416) 964-5735.

---
Sources
812A Bloor Street West, Suite 201 sources@sources.ca
Toronto, Ontario, M6G 1L9, Canada Tel: 416–964–5735
Copyright © Sources, All rights reserved.