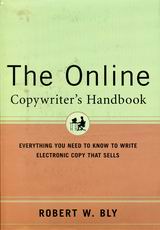 The Online Copywriter's Handbook
Bly, Robert W.
Publisher: McGraw-Hill, New York, USA
Year Published: 2002
Pages: 320pp Price: $29.95 US ISBN: 0-658-02114-1
Library of Congress Number: HF5415.1265 B59 2002 Dewey: 659.1'0285'4678--dc21
Please see our media profile in
Sources
:
Sources Select Resources
Here's another valuable how-to reference for writers wanting to expand their careers, capabilities and pocketbooks. Robert Bly is an accomplished direct marketing practitioner who shares his knowledge and experience with newcomers and old pros alike. In this edition, he concentrates on the Internet and provides everything that's needed to write great copy for online applications. What is refreshing about this particular book is the author's guarantee that it will never be outdated. He provides three websites (including his own) at which readers can keep up on the latest information. Bly also publishes his address, telephone, fax and e-mail address for anyone interesting in providing feedback or sharing tricks of their own. Ready, set, network!
[Review by Lynn Fenske]
Table of Contents
Acknowledgments
Introduction
Part 1: Fundamentals of Writing Copy for the Web
1 Writing for the Internet
On- or Offline, People Are People
But Print and the Internet Are Not the Same
Will the Internet Make Print Obsolete?
Content as a Marketing Tool
Content as a Product
Ubiquitous Delivery
2 Fundamentals of Persuasive Online Copy
Element 1---Gain Attention
Element 2---Focus on the Customer
Element 3---Stress Benefits
Element 4---Differentiate Yourself from the Competition
Element 5---Prove Your Case
Element 6---Establish Credibility
Element 7---Build Value
Element 8---Close with a Call to Action
Element 9---Give the Reader a Reason to Act Now
3 Adapting Existing Print Copy to the Web
Do a Gross Edit of the Document
Scan into as Electronic File
Update the Technical Content and Check for Accuracy
Reduce the Promotional Content and Tone
Increase the Informational Content and Tone
Place Strategic Hyperlinks Where Useful
Insert Dynamic Headlines and Subheads
Do a Fine Edit to Tighten and Strengthen the Text
Proofread
Post the Document on the Website
Ask for Feedback
Making Your Online Documents More Persuasive with AIDA
Critiquing Online Documents
Reaching the Non-U.S. Internet User
Push Yourself to Do One More Edit
4 Illustrating Your Web Copy
Words Versus Pictures
Photographs
Tables
Categories
Accented Points
Circle Ratings
Pro and Con Charts
Quadrants
Using Visuals to Display Relationships
Organizations Charts Display Hierarchy
Visuals That Communicate Sequence
Visuals That Represent Cause and Effect
Creating Visual Metaphors
Number Charts and Graphs
Flash Presentations
Part 2: Web Copywriting Tasks
5 Creating an Effective Website
What's in a (Domain) Name?
Choosing Your Domain Name
Keep Your Site's Objective in Mind
Write Copy to Fit the Buyer's Mood and Intent
Account for Different Communications Styles
Write What Your Prospects Want to Know
Why should Customers Buy from You and Not Your Competitors?
Create a Site Map That Meets Your Marketing Objectives
Eight Steps to Consider Before Writing Website Copy
Pictures Versus Words Revisited
Use the Word Free---A Lot
Stress the Benefits
Understand the Three Cs of Web Marketing
More Ideas for Your Website
E-Commerce and Special Offers
6 Home Pages and Splash Pages
Splash Pages
Home Pages
The Three Home-Pages Styles: Splash, Ad, and Tabloid
The Home Page Sets the Website's tone and Style
Home Page Buttons
The Elements of Style on Your Home Page and on the Web
Avoid Sexist Language on Your Site
7 Other Web Pages
Welcome Visitors with a Guest Book
Smooth Landing on Your Landing Page
A Shopping Cart Helps Visitors Purchase Online
Don't Miss a Links Page
FAQ Page
Selling Your Wares with Product Pages
Contact Pages Put You in Touch
Information Pages Draw Visitors Like a Magnet
All About the "About Us" Page
Can Long Copy Work on the Web?
To Sum It All Up
8 Internet Direct Mail
Opting in Your Lists
Basic Format
Baiting the Hook
Writing E-Mail Marketing Messages That Sell
Enhance Your E-Mail Marketing with Graphics and Animation
To Sum It All Up
9 Advertising on the Internet: Banner and E-Zine Ads
Banner Ads Versus E-Mail Marketing
Nine Common Banner-Ad Mistakes to Avoid
Placing Banner Ads
E-Zine Advertising
How to Write Headlines That Sell
10 Electronic Newsletters: E-Zines
Size and Frequency
Building your E-Zine Subscriber List
Promoting the E-Zine
Designing Your E-Zine
E-Zine Content
Twenty-Nine Article Ideas for Your E-Zine
E-Zine Writing Tips
11 Web Documents
Guidelines for Writing Copy for the Internet
Special Considerations for High-Tech Marketers
12 Web Promotions
Bookmark
In search of . . . Search Engines
Promote Your Website in All Your Marketing
Power-Packed Direct Mail
Using Direct Mail to Drive Business-to-Business Leads to Your Website
Print Ads That Drive URL Visits
Match the Response Form with the Promotional Offer
Make Your Website Famous with the Power of PR
Resources
Glossary
Bibliography
Index
About the Author
Subject Headings