Sources Bookshelf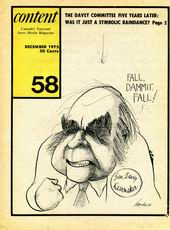 Content Magazine - Number 58
December 1975
http://www.sources.com/SSR/Content/Content58.html
Date Written: 01/12/1975
Year Published: 1975
Table of Contents
Article by Peter Fleming
Column by Morris Wolfe
Sask. Northland Coverage Gets Cold Reception From La Ronge Publisher, Sask. Cabinet Minister
Members Boycott Firm's BCCNA Pitch
69 Years Ago This Month the First Radio Signal was Broadcast by Marconi. Right? Wrong.
Omens For Dailies Not Good Canadian Publishers Confident
Coming Shakeup at Southma News Services May Close Peking, Paris Bureaux; Halifax will Close
The David Scott Affair: Two Views
---

Sources is a directory for journalists, writers, news editors, researchers. Use Sources to find experts, media contacts, spokespersons, scientists, lobbyists, officials, speakers, university professors, researchers, newsmakers, CEOs, executive directors, media relations contacts, spokespeople, talk show guests, PR representatives, Canadian sources, story ideas, research studies, databases, universities, colleges, associations, businesses, government, research institutions, lobby groups, non-government organizations (NGOs), in Canada and internationally.
© Sources 2021. The information provided is copyright and may not be reproduced in any form or by any means (whether electronic, mechanical or photographic), or stored in an electronic retrieval system, without written permission of the publisher. The content may not be resold, republished, or redistributed. Indexing and search applications by Ulli Diemer and Chris DeFreitas.