Sources Bookshelf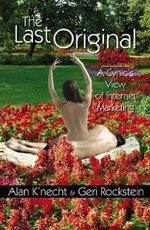 The Last Original Idea
A Cynic's View of Internet Marketing
K'necht, Alan; Rockstein, Geri
http://www.thelastoriginalidea.com
Publisher: Infinity Publishing
Year Published: 2010
Pages: 100pp Price: $12.95 ISBN: 978-0741461452
Please see our media profile in
Sources
:
Alan K'necht, SEO, Internet Trends, Social Media & Innovations Expert
The Last Original Idea actually is an original idea - highly unusual in a world where "recycle" is the order of the day. It takes a light hearted look at the state of Internet marketing today and traces back each of the elements to its historical roots, clearly demonstrating that companies who understood the mistakes of the past were able to be profitable in the present. Others are a mere memory, lost in cyber-space.
Subject Headings
---

Sources is a directory for journalists, writers, news editors, researchers. Use Sources to find experts, media contacts, spokespersons, scientists, lobbyists, officials, speakers, university professors, researchers, newsmakers, CEOs, executive directors, media relations contacts, spokespeople, talk show guests, PR representatives, Canadian sources, story ideas, research studies, databases, universities, colleges, associations, businesses, government, research institutions, lobby groups, non-government organizations (NGOs), in Canada and internationally.
© Sources 2021. The information provided is copyright and may not be reproduced in any form or by any means (whether electronic, mechanical or photographic), or stored in an electronic retrieval system, without written permission of the publisher. The content may not be resold, republished, or redistributed. Indexing and search applications by Ulli Diemer and Chris DeFreitas.