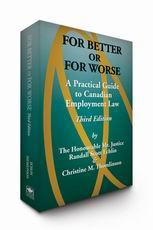 For Better or Worse
A Practical guide to Canadian Employment Law, Third Edition - Fully Revised and Updated
Echlin, The Honourable Mr. Justice Randall Scott; Thomlinson, Christine M.
http://www.canadalawbook.ca
Publisher: Canada Law Book, A Division of Thomson Reuters Canada Limited, Canada
Year Published: 2011
Pages: 450pp Price: $115.00 ISBN: 978-0-88804-517-1
Please see our media profile in
Sources
:
Rubin Thomlinson LLP
This text is an easy-to-read reference on employment law issues across Canada and covers the employment relationship from start to finish. It can be read cover to cover to get the full scope of the complexities of the employment relationship, or it can be referenced by topic so you can quickly find the information you are looking for.
From "courting" and the search for employees, "engagement" when hiring, and the "marriage" and maintaining the employment relationship, to "separation" and dealing with employee issues, and "divorce" , the employee dismissal, resignation or retirement, this resource provides the insight and direction you need to effectively manage each stage.
BENEFIT FROM PRACTICAL GUIDANCE AND INSIGHT ON HOW TO:
* avoid potential minefields through the proper drafting of employment contracts
* effectively and legally manage your staff, from conducting performance and salary reviews to handling health and safety issues
* carefully handle the dismissal process, to avoid matters proceeding to litigation
THIS NEW EDITION PROVIDES UP-TO-DATE GUIDANCE ON KEY TOPICS SUCH AS:
* the end of mandatory retirement
* inducing breach of contract
* enforceability of restrictive covenants
* dependent contractors
* privacy issues in the workplace
* employment standards
* duty to accommodate
* the new human rights regime in Ontario
* occupational health and safety offences
* legislation addressing workplace violence and harassment
* constructive dismissal, just cause, reasonable notice
* calculating dismissal damages post Keays v. Honda Canada Inc.
WRITTEN BY TWO LEADING AUTHORITIES ON THE SUBJECT
The authors, The Honourable Mr. Justice Randall Scott Echlin and Christine M. Thomlinson, share their knowledge, tips and techniques with you on the law. For Better or For Worse: A practical guide to Canadian Employment Law, Third Edition is written in clear language so the reader will know what the law means and how to apply it to their particular circumstance. The text provides enough information to help you make rational and cost-effective decisions.
SAVE TIME WITH PRACTICAL FEATURES SUCH AS:
* tables with key employment information from all jurisdictions in Canada
* comparative charts with legislation for every province and territory
* list of government and agency contacts, revised and expanded
GET ANSWERS TO YOUR CRITICAL EMPLOYMENT LAW QUESTIONS WITH THIS COMPREHENSIVE AND PRACTICAL GUIDE
TABLE OF CONTENTS
Part 1 The Courting
Part 2 The Engagement
Part 3 The Marriage
Part 4 The Separation
Part 5 The Divorce
Appendix A Tables with key employment information
Appendix B Legislation
Appendix C Government Contacts
To order a copy call:
In Toronto (905) 726-5419 or Toll free 1 (800) 387-5164
Write to:
Canada Law Book, 240 Edward Street, Aurora, Ontario, L4G 3S9
Subject Headings