Sources Bookshelf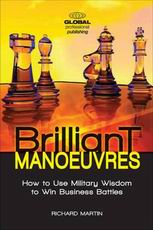 Brilliant Manoeuvres
How to Use Military Wisdom to Win Business Battles
Martin, Richard
http://www.brilliantmanoeuvres.com
Publisher: Global Professional Publishing
Year Published: 2012
Price: 34.95 ISBN: 978-1-906403-85-0
Please see our media profile in
Sources
:
Richard Martin
Business executives and entrepreneurs see themselves as modern day warriors and generals, fighting off competitors and conquering new markets. They talk about attacking competitors, defending turf, firing warning shots, establishing beachheads, bypassing the competition, digging a protective moat, and so on. Brilliant Manoeuvres - How to Use Military Wisdom to Win Business Battles is for those executives and entrepreneurs who are looking to create and sustain competitive advantage and to lead their teams in the face of determined competition and rivalry. Based on the author's experience as a soldier, a business consultant and an entrepreneur, the book explains how and why military leaders and planners actually think and operate. It then translates this into terms that business people can readily apply to their own reality so they can survive and thrive. In other words, this book is a practical guidebook, and not just another set of exhortations to "lead from the front" or to "win without fighting."
Available through major online retailers as well as my site: www.brilliantmanoeuvres.com, where it can be ordered through Paypal.
Subject Headings
---

Sources is a directory for journalists, writers, news editors, researchers. Use Sources to find experts, media contacts, spokespersons, scientists, lobbyists, officials, speakers, university professors, researchers, newsmakers, CEOs, executive directors, media relations contacts, spokespeople, talk show guests, PR representatives, Canadian sources, story ideas, research studies, databases, universities, colleges, associations, businesses, government, research institutions, lobby groups, non-government organizations (NGOs), in Canada and internationally.
© Sources 2021. The information provided is copyright and may not be reproduced in any form or by any means (whether electronic, mechanical or photographic), or stored in an electronic retrieval system, without written permission of the publisher. The content may not be resold, republished, or redistributed. Indexing and search applications by Ulli Diemer and Chris DeFreitas.