News Release
Margaret Laurence: A Gift of Grace
Exploring the Prairie Origins of Laurence's Spirituality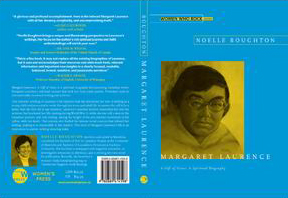 Writer Noelle Boughton's new book, Margaret Laurence: A Gift Of Grace, recently released by Women's Press, is a life portrait that sheds new light on the spiritual growth of the Manitoba novelist who remains one of Canada's true greats on the world literary scene. Boughton's engrossing "spiritual biography" is a timely reminder that Laurence's life is an inspiration to anyone in search of meaning today.
Examining a largely unexplored side of Laurence's life and creativity, Margaret Laurence: A Gift Of Grace presents new information and stories from friends, as well as excerpts from Laurence's own writings. Boughton includes her personal recollections of the author, whom she met and interviewed in Winnipeg in 1978.
The work delves into the impact of Laurence's prairie town upbringing and her United Church sense of community, spirituality, and social justice on her life and creative work. It tracks how Laurence came to express these influences in such acclaimed novels as The Diviners, A Jest of God, and The Stone Angel. It also describes her growth as a community activist - from her teenage efforts in Manitoba during World War II to her work with the anti-nuclear movement in the 1980s, which ended only with her death.
Boughton grew up in Minnedosa, next to Laurence's home town of Neepawa, Manitoba. The daughter and now wife of a United Church minister, she shares Laurence's sense of place, community, spirituality, and social responsibility. While Laurence graduated from United College (now University of Winnipeg), Boughton graduated from the University of Manitoba. Also like Laurence, Boughton began her journalistic career in Winnipeg and now lives in Ontario. She has written for leading magazines, worked in government and communications, been an investigative researcher with CTV's W5, and is currently a Toronto-based writer and editor.
Margaret Laurence: A Gift of Grace (208 pages pb, $19.95 Cdn./$14.95 U.S.978-0-88961-459-8 WP) is part of the Women Who Rock series from Women's Press, an imprint of Canadian Scholars' Press. June Callwood, another beloved Canadian author and activist, called Boughton's work, "a glorious and profound accomplishment. Here is the beloved Margaret Laurence with all her decency, complexity, and uncompromising truth."
- 30 -
---
Sources
sources@sources.ca
Toronto, Ontario, , Canada Tel:
Copyright © Sources, All rights reserved.