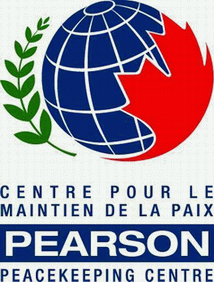 Peace Operations Improved Through Strong Leadership and Preparation
October 19, 2010
Cornwallis, Nova Scotia (October 19, 2010) – The Pearson Peacekeeping Centre (PPC) continues to advance Canada's contribution to global peace and security with the start of today's United Nations Integrated Mission Staff Officer Course (UNIMSOC) followed by the Senior Management Course (SMC) on Integrated Peace Missions on November 1.
Both courses, held at the PPC's training facility in Cornwallis, Nova Scotia, prepare male and female staff officers from around the world to contribute more effectively to contemporary peace operations.
The six-week UNIMSOC provides staff officers with the fundamentals required when deployed in a United Nations Integrated Missions Headquarters while serving on a peace operation mission. The three-week SMC gathers senior ranking military officers and enhances their knowledge of all the aspects of a peace operation; from the lifecycles of conflict, mission timelines, necessary activities during a mission all the way through to handover of power.
"These courses develop strong leaders and prepare them for the challenges they may face while deployed in an area of conflict," said Suzanne Monaghan, President of the PPC. "Given the complexity of contemporary peace operations, participants are provided with a solid foundation of knowledge, skills and abilities needed for deploying seamlessly into a peace operation."
Both courses are delivered using the PPC's hallmark activity-based teaching methodology. Experienced facilitators draw on the specific skills and knowledge of individual participants who approach scenarios differently depending on their professional and cultural background.
"By bringing together a group of officers from diverse cultures and customs, we are able to create an exceptionally rich learning environment," mentions John Pulchny, UNIMSOC/SMC Course Administrator. "Participants are able to learn from each others' experiences just as much as they learn from the course. This has become a defining characteristic of the course."
UNIMSOC and SMC are funded by the Canadian Department of National Defence's Directorate – Military Training and Cooperation (DMTC) Program (DMTC), a key instrument of defence policy.
The Pearson Peacekeeping Centre is a Canadian-based institution dedicated to making international peace operations more effective through research, education and training as well as capacity building.
-30-
Information:
Tel.: 613-520-5617
E-mail: info@peaceoperations.org
www.peaceoperations.org
For more information contact
:
Communications
Pearson Peacekeeping Centre
Phone: 613-520-5617
Email: info@peaceoperations.org
Website: www.peaceoperations.org
Click here to view our Sources Listing:
Topics: