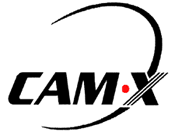 CAM-X's Astounding Fundraising Continues
November 10, 2010
The Canadian Call Management Association (CAM-X) continues to support Breast Cancer Research with a Silent Auction & Shave to Save Event at its Annual Convention & Trade Show held in Las Vegas, NV October 3-6, 2010
Grimsby, ON, November 10, 2010 –This year, with the support of both CAM-X members and CAM-X vendors, the Association raised an astounding $50,000 for the Canadian Breast Cancer Foundation.
The ever generous John Ratliff (Appletree Answering Service) not only offered up his lovely locks to be shorn in the "Shave to Save" event, but also handed over a cheque for $10,000 – the result of his staff members' fundraising efforts. Before the last lock fell to the floor, another $26,500 was raised to support this very worthy cause.
Derek Crisafulli of Icon Salon in Las Vegas generously donated his time and talent to supervise the shave. "I was surprised and proud to be chosen to help out for this worthy cause." said Derek.
Attendees at the annual fundraising event were persuaded by Gary Pudles' (Answernet) awesome auctioneering skills to part with yet another $14,000 before the night was over.
"CAM-X members continue to demonstrate their innate philanthropy and generosity by raising a grand total of $50,000 to be donated to the Canadian Breast Cancer Foundation. I am so proud, but not at all surprised at their accomplishment." said CAM-X Executive Director Linda Osip.
About CAM-X
Based in Grimsby, Ontario CAM-X is a Canadian based trade association for the Call Management industry which includes: call centres, telephone answering services, voice-mail services, telemarketing services, and other communication services. Their goal is to contribute to their members' profitability by fostering a willingness to exchange ideas, experiences and solutions while promoting the general welfare and ethical standards of the industry. (www.camx.ca.)
About The Canadian Breast Cancer Foundation
Established in 1986, the Canadian Breast Cancer Foundation (CBCF) is the leading national volunteer-based organization in Canada dedicated to the fight against breast cancer. CBCF works collaboratively to fund, support and advocate for: relevant and innovative research; meaningful education and awareness programs; early diagnosis and effective treatment; and a positive quality of life for those living with breast cancer. (www.cbcf.org)
Media Contacts:
Linda Osip, CAM-X, Executive Director 1..800.896.1054 Linda@camx.ca
For more information contact
:
Linda Osip
Executive Director
Canadian Call Management Association (CAM-X)
Phone: 8008961054
Email: linda@camx.ca
Website: www.camx.ca
Click here to view our Sources Listing:
Topics: