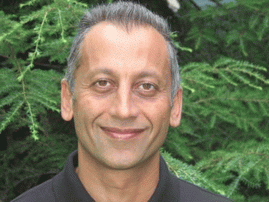 Anavex strengthens management team with addition of VP, Clinical Development & Medical Affairs
February 16, 2011
Hoboken, NJ – February 4, 2011 – Anavex Life Sciences Corp. ("Anavex", AVXL.OB) today announced the addition of Dr. Angelos Stergiou to the executive management team in the role of Vice President, Clinical Development & Medical Affairs. Dr. Stergiou has extensive medical and clinical development expertise and has been involved in progressing Alzheimer's and numerous other clinical trials in prior roles.
"Dr. Stergiou brings more than 10 years of clinical trial management and medical expertise to Anavex. We are pleased and privileged to have him join our team as we enter Phase I clinical trials with ANAVEX 2-73, our lead candidate for Alzheimer's disease," said Dr. Cameron Durrant, Executive Chairman of Anavex. "We have had the opportunity to work very closely with Dr. Stergiou in his prior work with Genesis BioPharma Group, one of the CROs that assisted us with the clinical development of ANAVEX 2-73. Dr. Stergiou's senior-level leadership and proven ability to advance Alzheimer's clinical trials will be a tremendous asset to Anavex going forward."
Dr. Stergiou's key responsibilities will include managing the Anavex clinical development program and medical affairs department, overseeing and managing the Contract Research Organizations involved in the clinical trials, managing the Key Opinion Leader program and Scientific Advisory Board, managing Regulatory Affairs and assisting in manufacturing operations and pipeline optimization. As a result of this change, the agreement between Anavex and Genesis BioPharma is no longer in effect.
Dr. Stergiou has held international positions of increasing responsibility in the United States and Europe in pharma and biotechnology companies including PAION AG, Accentia Biopharmaceuticals and BioVest International, as well as Clinical Research Organizations. He has held specific roles ranging from Medical Director to Head of Clinical Research and Vice President of Product Development, with responsibility for medical affairs, clinical research and development, pharmacovigilance, clinical operations, project management, regulatory affairs, biostatistics and chemistry, manufacturing and controls (CMC).
He has led and overseen research endeavors in all Phases of clinical development across many indications, including CNS and Alzheimer's, cardiovascular, oncology, respiratory and autoimmune diseases, and has a broad understanding of all aspects of clinical development and medical affairs. Dr. Stergiou has designed and implemented research projects in the United States, Canada, Australia, Japan and Europe. He has had numerous interactions with the FDA and European health authorities in addition to Australia and Japan. A prolific writer and respected editor, Dr. Stergiou has published papers in peer-reviewed literature and authored articles in journals in addition to being a reviewer/editor of peer-reviewed clinical journals.
Dr. Stergiou holds a Doctor of Medicine degree and is a graduate of Kentucky Wesleyan University with elective clinical specialty in interventional cardiology at the General Hospital Hagen (Germany) and cardiac surgery at the University of Cologne. He has collaborated with the most internationally renowned academic institutions on clinical research endeavors including Beth Israel Deaconess Medical Center, MD Anderson Cancer Center, University of Pennsylvania, Cleveland Clinic, New York University, University of Heidelberg and the Mayo Clinic. He is an active member of the World Medical Association, the American Academy of Pharmaceutical Physicians and Investigators, the Association of Clinical Research Professionals and the International Society for Pharmacoeconomics and Outcomes Research. A frequent guest lecturer/speaker for global clinical development and clinical research and regulatory matters, he has presented to audiences at conferences and at post-secondary institutions including Columbia University, and numerous European universities.
"I am excited to be joining Anavex at this critical stage in the company's development," said Dr. Stergiou. "Having had the opportunity to directly participate and lead the design of the clinical program for ANAVEX 2-73 in my previous role at Genesis BioPharma Group, I was extremely impressed by the data generated to date and with the company's unique approach in Alzheimer's disease. Genesis BioPharma has been extremely supportive of my move to Anavex and I am pleased to be able to offer continuity of support for ANAVEX 2-73 in my new role with Anavex. Furthermore, when ANAVEX 2-73 was recently chosen by Alzheimer's Weekly as the number one most promising trial drug in Alzheimer's disease (1), I became even more interested in becoming more deeply involved personally with this opportunity. I strongly believe that 2011 will be a very exciting year for the company as we begin Phase I trials of ANAVEX 2-73 in Alzheimer's disease."
About Alzheimer's
While Alzheimer's is most common in people over the age of 65, it can strike adults of any age irrespective of their gender, background or socioeconomic status. According to the Alzheimer's Association an estimated 5.3 million Americans are currently living with Alzheimer's disease. The number of Americans aged 65 and over with Alzheimer's is estimated to reach 7.7 million in 2030. By 2050, between 11 million and 16 million Americans over 65 are expected to have Alzheimer's disease.
About ANAVEX 2-73
ANAVEX 2-73 is the first of a new class of oral, disease-modifying drugs being studied to potentially treat Alzheimer's disease itself, versus treating its symptoms.
About Anavex Life Sciences Corp.
Anavex Life Sciences Corp. (www.anavex.com) is a biopharmaceutical company engaged in the discovery and development of novel drug candidates for the treatment of neurological diseases and cancer. The Anavex proprietary SIGMACEPTOR™ Discovery Platform involves the rational design of drug compounds targeted to specific receptors involved in the modulation of multiple cellular biochemical signaling pathways.
The SIGMACEPTOR™-N program involves the development of novel drug candidates that target neurological and neurodegenerative diseases (Alzheimer's disease, epilepsy, depression, pain). The company's lead drug candidates exhibit high affinity for sigma receptors, which have been extensively documented as potentially valuable drug targets and have demonstrated anti-amnesic and neuroprotective properties.
Anavex is a publicly traded company under the symbol "AVXL".
–––––––––––––––––––––
(1) Noted in a recent research article (http://www.AlzWeek.com/node/970).
Forward-Looking Statements
Statements in this press release that are not strictly historical in nature are forward-looking statements. These statements are only predictions based on current information and expectations and involve a number of risks and uncertainties. Forward-looking statements in this press release include that Dr. Stergiou will advance our clinical trials; Anavex is advancing ANAVEX 2-73, its lead drug candidate for Alzheimer's disease; that we are on the verge of beginning a Phase I clinical trial in humans; that our unique approach, which may potentially prevent, halt and/or reverse the course of Alzheimer's disease and that ANAVEX 2-73 is the first of a new class of oral, disease-modifying drugs being studied to potentially treat Alzheimer's disease itself, versus treating its symptoms. Actual events or results may differ materially from those projected in any of such statements due to various factors, including the risks and uncertainties inherent in drug discovery and development, which include, without limitation, the potential failure of development candidates to advance through preclinical studies or demonstrate safety and efficacy in clinical testing and the ability to pass clinical trials so as to move on to the next phase, and our ability to finance development or satisfy the rigorous regulatory requirements for new drugs. Readers are cautioned not to place undue reliance on these forward-looking statements, which speak only as of the date hereof. All forward-looking statements are qualified in their entirety by this cautionary statement and Anavex Life Sciences Corp. undertakes no obligation to revise or update this press release to reflect events or circumstances after the date hereof.
For more information contact
:
Anavex Life Sciences Corp.
Research & Business Development
Anavex Life Sciences Corp.
Phone: 1-866-505-2895
Email: info@anavex.com
Website: www.anavex.com
Primoris Group Inc.
Shareholder & Media Relations
Anavex Life Sciences Corp.
Phone: 1-866-505-2895
Email: ir@anavex.com
Website: www.anavex.com
Click here to view our Sources Listing:
Topics: