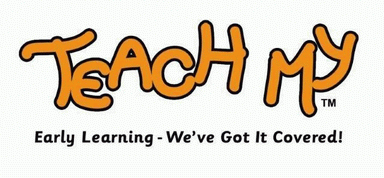 Get Ready To Read With Teach My Preschooler & Read Across America!
February 26, 2011
Teach My Preschooler is the newest, award winning all-in-one learning kit from Teach My. It is divided into four sections; Ready to Read, Ready to Print, Ready for 1-100, and Ready for Math. In the Ready To Read section, there is a simple 10 step approach to prepare preschoolers for reading. It includes 10 soft-covered readers, flashcards, a reward tin and a flashcard holder.
"Teaching children to read is a very controversial subject and is often called the 'reading wars' says Christy Cook, mompreneur and founder of Teach My. "For Teach My Preschooler, we reviewed several different approaches to reading and with the help of our expert education consultant, Judith Rowlands, we agreed on a combined approach to learning to read."
The combined approach includes learning letter sounds, reading aloud, mastering 60 vocabulary words based on short vowels, long vowels and high frequency words as well as using 60 vocabulary words in levelled readers. With just 20 minutes a day, Teach My Preschooler can open the door to a world of early reading. The kit is designed for ages 3-6 yrs.
Teach My aims to take the guesswork out of early learning with its 'one-stop shop' kits. The award-winning Teach My Baby, designed for babies 6 to 18 months teaches First Words, First Numbers, Self and Sound & Touch. Teach My Toddler, for 18 months to 3yrs helps toddlers master the basics: alphabet, numbers, shapes and colors.
Teach My wants to promote reading and 'Read Across America Day'. It is America's largest reading event. Organized by the National Education Association, Read Across America takes place on March 2nd, Dr. Seuss' birthday! There are mini reading events going on in communities nation-wide. In fact, 20,000 teachers, parents and kids are sitting down for storytime at the Hilton in New York City. Read Across America highlights the importance of reading and spending one-on-one time. Support Read Across America - take 20 minutes and sit down with your little one & a book!
Teach My kits are available online in the U.S. at Amazon.com, Babies R Us, Baby Universe, Barnes & Noble, BuyBuyBaby, Bed Bath & Beyond, Diapers.com, Drugstore.com, F.A.O. Schwarz, Target, Toys R Us, Walmart and at specialty retailers across North America for $49.99.
Please visit www.teachmy.com for more product details and Like Teach My on Facebook to win a free Teach My Preschooler!
For more information contact
:
Christy Cook
Founder
Teach My
Phone: 416-488-7076
Email: christy@teachmy.com
Website: www.teachmy.com
Click here to view our Sources Listing:
Topics: