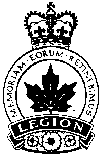 Winners announced
April 19, 2011
Ottawa – The Royal Canadian Legion has announced the winners in its Poster and Literary Contests. Held each year, students of all ages from across the nation participate in the Poster & Literary Contests to foster the tradition of Remembrance amongst Canadians. This year there were over 100,000 entries.
The posters (colour and black & white), along with poetry and essay entries are initially judged at the local branches of the Legion and then at the Provincial Command level. These winning entries are submitted to Dominion Command for final judging at the national level.
The Poster Contest is held at four levels: Senior (grades 10, 11 and 12), Intermediate (grades 7, 8 and 9), Junior (grades 4, 5 and 6) and Primary (grades Kindergarten, 1, 2 and 3). The Literary Contest does not have a primary level. All entries received at the national level are judged by a panel of experts in those fields.
The national winners this year are:
Senior Colour Poster – Atalanta Shi, Burnaby, BC
Senior Black and White Poster – Tim MacDonald, Malagash, NS
Senior Poetry – Laura Howells, St. John's, NL
Senior Essay – Katelyn Major, St. Brieux, SK
Intermediate Colour Poster – Mu Qing Kuang, Surrey, BC
Intermediate Black and White Poster – Iris Shen, Markham, ON
Intermediate Poetry – Madison Boon, Maryfield, SK
Intermediate Essay – Katrina Laing, Unity, SK
Junior Colour Poster – Kelaiah Guiel, Bailieboro, ON
Junior Black and White Poster – Colleen Hallett, Boissevain, MB
Junior Poetry – Madeleine Crawford, Cornwall, PE
Junior Essay – Bruce Marpole, Banff, AB
Primary Colour Poster – Madison Bolyea, Shanty Bay, ON
Primary Black and White Poster – Terrence Hill, Clairmont, AB
The winning entries in all categories will be displayed at the Canadian War Museum from June 2011 to May 2012. The second place and honourable mention entries in all categories will be displayed in the Parliament Buildings during the Remembrance period in November 2011.
The Senior Category winners will come to Ottawa during the Remembrance Week and place a wreath at the National Remembrance Day Ceremony as part of the Vice-Regal Group and on behalf of the Youth of Canada. While in Ottawa they will meet the Governor General, Prime Minister, the Memorial (Silver) Cross Mother and the Chief of the Defence Staff and participate in a number of events set up for them during that week.
-30-
For information contact Bob Butt at 613-591-3335.
For more information contact
:
Robert Butt
Director Communications
The Royal Canadian Legion
Phone: 613-8-591-3335 X241
Email: bbutt@legion.ca
Website: www,legion.ca
Click here to view our Sources Listing:
Topics: