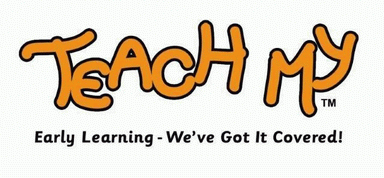 Teach My Toddler – Pretend Play & Rainy Days!
April 27, 2011
Scolastic.com says that when children engage in pretend play, they are actively experimenting with the social and emotional roles of life. They also learn how to take turns, share responsibility, and creatively problem-solve. An old pretend play favorite, is 'playing school' The Teach My Toddler kit is the perfect toy to help parents and their little ones act out a school environment. With all the fun of pretending to 'play school', toddlers won't even realize they are learning too!
Teach My Toddler is the multi award-winning all-in-one learning system for toddlers. The toddler tote has 17 modern teaching tools to help toddlers master the basics; alphabet, numbers, shapes and colors. Each section is fully-coordinated with a total of 5 puzzles, 4 board books, 4 posters and 4 sets of flashcards, all in one portable & storable carrying case. The aim of Teach My Toddler is to give toddlers a head start and to encourage one-on-one time between toddlers and their parents, grandparents and caregivers.
"What better way to prepare your child for the school environment then 'playing school' at home says Christy Cook, mompreneur and founder of Teach My. "With the Teach My Toddler kit, little ones can master the basics, while engaging in pretend play, so having fun and learning at the same time!
Teach My aims to take the guesswork out of early learning. The award-winning Teach My Baby is the first and only all-in-one learning kit for babies 6 to 18 months. The kit introduces First Words, First Numbers, Self and Sounds & Touch. The successor to Teach My Toddler is Teach My Preschooler. It is designed for ages 3+. Preschoolers get ready to read, print, count to 100 and learn early math, all in one kit.
Teach My kits are available online in the U.S. at Amazon.com, Babies R Us, Baby Universe, Barnes & Noble, buybuyBaby, Bed Bath & Beyond, Diapers.com, Drugstore.com, F.A.O. Schwarz, Target and Toys R Us and at specialty retailers across North America for $49.99. Please visit www.teachmy.com or contact Christy Cook, christy@teachmy.com
For more information contact
:
Christy Cook
Founder
Teach My
Phone: 416-488-7076
Email: christy@teachmy.com
Website: www.teachmy.com
Click here to view our Sources Listing:
Topics: