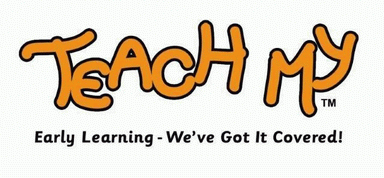 Teach My Baby - Tired of Coochy, Coochy, Coo - Try Reading To Your Baby!
May 11, 2011
According to KidsHealth, reading aloud to your baby is a wonderful shared activity and a great form of stimulation. In fact, reading aloud teaches your baby about communication, builds listening, memory and vocabulary skills as well as opens the door to the world around them.
Reading aloud gives your baby the opportunity to look, touch, point and answer questions, all of which promotes social development and thinking skills. "My mom was a librarian, so I started reading aloud to my son, when he was only 6 weeks old", says Christy Cook, Founder of Teach My, Award Winning Learning Kits. "I was tired of saying coochy, coochy, coo twelve hours a day! I began reading very simple books and he loved it."
Local libraries and bookstores have many appropriate books to keep your baby interested and intrigued. Teach My Baby, the award winning all-in-one learning kit for babies 6-18 months has 4 board books covering first words, first numbers, animal sounds and parts of the face. The kit also has a variety of other age-appropriate teaching tools to help parents introduce baby to the basics; finger puppets, nesting blocks, sensory flashcards, mirrored flashcards, a storyboard and more. By sitting down with the kit for just 20 minutes a day, Teach My Baby will enhance your baby's communication skills and overall development.
Teach My aims to take the guesswork out of early learning. For children 18 months to 3 years, Teach My Toddler is designed to help toddlers master the basics: alphabet, numbers, shapes and colors. Teach My Preschooler , the 'smart' start is designed for ages 3+. Preschoolers get ready to read, print, count to 100 and learn early math, all in one kit.
Teach My kits are available online in the U.S. at Amazon.com, Babies R Us, Baby Universe, Barnes & Noble, buybuyBaby, Bed Bath & Beyond, Diapers.com, Drugstore.com, F.A.O. Schwarz, Target, Toys R Us & Walmart and at specialty retailers across North America for $49.99. Please visit www.teachmy.com or contact Christy Cook, christy@teachmy.com.
Teach My, Makers of multi award winning all-in-one learning kits for babies, toddlers and preschoolers. For further information, please contact, Christy Cook, christy@teachmy.com
For more information contact
:
Christy Cook
Founder
Teach My
Phone: 416-488-7076
Email: christy@teachmy.com
Website: www.teachmy.com
Click here to view our Sources Listing:
Topics: