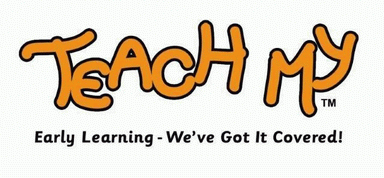 Teach My Learning Kits & Boy Talk!
May 18, 2011
According to American Baby Magazine (March '11) & Claire Vallotton, PH. D. assistant professor of Child Development at Michigan State University, the greater a boy's grasp of words at age 2, the better he'll be at avoiding tantrums and outbursts. Research shows that strong language skills will help boys develop self-control and, ultimately, succeed in school. It would appear that boys should have extra care and attention to building their language skills and using them to control their behavior.
"Teach My kits are a great way to improve language skills says Christy Cook, mompreneur and founder of Teach My. "In fact, Teach My Baby introduces First Words, Teach My Toddler teaches the words for colors, shapes and numbers and Teach My Preschooler promotes early reading." "The kits are specifically designed to sit down for 20 minutes of educational, one-on-one time, a perfect way to focus on building language skills."
Teach My aims to take the guesswork out of early learning with award winning all-in-one kits. Teach My Baby is the first and only all-in-one learning kit for babies 6 to 18 months. The kit introduces First Words, First Numbers, Self and Sounds & Touch. Teach My Toddler is the all-in-one learning kit specifically designed for toddlers. The kit has teaching tools to help toddlers master the basics; alphabet, numbers, shapes and colors. The successor to Teach My Toddler is Teach My Preschooler. It is designed for ages 3+. Preschoolers get ready to read, print, count to 100 and learn early math, all in one kit.
Teach My kits are available online in the U.S. at Amazon.com, Babies R Us, Baby Universe, Barnes & Noble, buybuyBaby, Bed Bath & Beyond, Diapers.com, Drugstore.com, F.A.O. Schwarz, Target and Toys R Us, Walmart and at specialty retailers across North America for $49.99. Please visit www.teachmy.com or contact Christy Cook, christy@teachmy.com
For more information contact
:
Christy Cook
Founder
Teach My
Phone: 416-488-7076
Email: christy@teachmy.com
Website: www.teachmy.com
Click here to view our Sources Listing:
Topics: