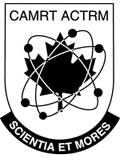 Canada's medical radiation technologists launch the Image of Care campaign
May 30, 2011
For Immediate Release
Ottawa, May 30, 2011 – This week, the Canadian Association of Medical Radiation Technologists (CAMRT) and its provincial member associations launch a rebranding initiative that will change the way medical radiation technologists (MRTs) are recognized throughout the medical profession as well as by the general population, and bring a face to this often misunderstood profession.
Millions of patients come face-to-face with MRTs every year; however, the majority of Canadians are unable to identify them accurately as healthcare providers. The Image of Care campaign is designed to change that. The campaign is intended to bring awareness about the profession of medical radiation technologists, and position them as respected, caring professionals who are recognized within the healthcare system as well as by the public at large. The campaign celebrates Canada's medical radiation technologist, who are the very image of care.
The Image of Care campaign launch will be staged as follows:
• Print advertisements appearing in the June issues of both Reader's Digest and Selection magazines, on the newsstands the week of May 16th;
• Banner advertisements on the Reader's Digest website throughout the next four weeks;
• The formal campaign launch on June 2nd at the CAMRT Annual General Conference in Saskatoon;
• The Image of Care website, a friendly place to find out more about who MRTs are, what they do, what to expect when you visit one and how you can launch your career in medical radiation technology; and
• A rebranding toolkit designed to provide organizations and individuals within the MRT profession with the necessary tools to conduct their own campaigns and bring awareness to the profession.
For more information about the Image of Care, www.imageofcare.ca
For information about CAMRT and its provincial member associations, visit www.camrt.ca.
About CAMRT: Founded in 1942, the Canadian Association of Medical Radiation Technologists (CAMRT) is a federation of ten provincial associations who share a common membership of over 11,000. CAMRT is the national certifying body for radiological technologists, radiation therapists, nuclear medicine technologists and magnetic resonance technologists and, as such, provides the national entry to practice certification examinations. The CAMRT is also the national professional association that represents and promotes the MRT profession and is an active participant in the Canadian health system. It offers quality professional development programs, advocates on behalf of the MRT profession, publishes the Journal of Medical Imaging and Radiation Sciences, conducts an annual conference and develops and promotes statements of professional best practice.
-30-
For more information, please contact:
Kate Slean, Communications Coordinator
Canadian Association of Medical Radiation Technologists (CAMRT): www.camrt.ca
613-234-0012 ext 240 or 1-800-463-9729 ext 240
613-297-8583 (cell)
kslean@camrt.ca
For more information contact
:
Kate Slean
Communications Coordinator
Canadian Association of Medical Radiation Technologists
Phone: 613-234-0012 ext. 240
Cell: 613-297-8583
Email: kslean@camrt.ca
Website: http://imageofcare.ca/
Click here to view our Sources Listing:
Topics: