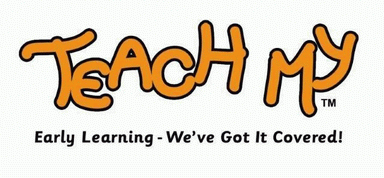 Teach My Learning Kits - Let's Talk Numbers!
June 8, 2011
Number interactions that are fun & natural are an important part of giving preschoolers a head start! According to Parenting Magazine & Susan Levine, Ph.D, a professor of psychology at the University of Chicago, when toddlers heard numbers regularly, they were better able to understand simple math concepts by preschool than kids who were exposed to little or no number talk. According to Dr. Levine, parents were not drilling their children and they were not using flashcards. All of the number interactions were fun & natural.
"At Teach My, we agree with Dr. Levine, fun activities involving number talk is key" says Christy Cook, mompreneur and founder of Teach My. "I always tell parents to supplement the numbers learned in Teach My kits with fun activities like counting buttons on coats and counting houses on streets! I believe a healthy balance between using traditional teaching tools such as books, puzzles, flashcards, finger puppets and posters combined with natural number talk and fun number interactions will make for a well prepared preschooler."
Teach My aims to take the guesswork out of early learning with award winning all-in-one kits. Teach My Baby is the first and only all-in-one learning kit for babies 6 to 18 months. The kit introduces First Words, First Numbers, Self and Sounds & Touch. Teach My Toddler is the all-in-one learning kit specifically designed for toddlers. The kit has teaching tools to help toddlers master the basics; alphabet, numbers, shapes and colors. The successor to Teach My Toddler is Teach My Preschooler. It is designed for ages 3+. Preschoolers get ready to read, print, count to 100 and learn early math, all in one kit.
Teach My kits are available online in the U.S. at Amazon.com, Babies R Us, Baby Universe, Barnes & Noble, buybuyBaby, Bed Bath & Beyond, Diapers.com, Drugstore.com, F.A.O. Schwarz, Target and Toys R Us, Walmart and at specialty retailers across North America for $49.99. Please visit http://www.teachmy.com or contact Christy Cook, christy@teachmy.com
Teach My, Makers of multi award winning all-in-one learning kits for babies, toddlers and preschoolers. For further information, please contact, Christy Cook, christy@teachmy.com
For more information contact
:
Christy Cook
Founder
Teach My
Phone: 416-488-7076
Email: christy@teachmy.com
Website: www.teachmy.com
Click here to view our Sources Listing:
Topics: