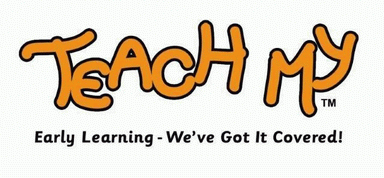 Teach My, Award Winning Learning Announces New Products!
November 9, 2011
Teach My, makers of award-winning all-in-one learning kits for babies, toddlers and preschoolers, today officially unveiled a new product line. Due to large demand from customers, Teach My www.teachmy.com is now offering individual sections from their award winning all-in-one kits and Add-On teaching sets.
SECTIONS by Teach My allow customers to create their own learning experience. The sections are from Teach My, award winning kits and contain coordinated teaching tools such as matching books, posters, flashcards, puzzles and more. The matching tools create natural interaction and repetition. $14.99-$19.99
ADD-ONS by Teach My offer customers the ability to remove a section from their current Teach My kit and replace it with new teaching tools. The first Add-On is called The Solar System by Teach My. Designed for 18 months+, it introduces little ones to the sun and nine planets. It can be used on its own or with Teach My Toddler and Teach My Preschooler. $14.99
Many parents are looking for an alternative to all of the electronic devices on the market. They want educational products that truly encourage one-on-one time." says Christy Cook, mompreneur and founder of Teach My. "Also, with tighter school budgets and an increase in classroom size, parents are not leaving all of the teaching to the schools. They want to help their children master the basic fundamentals of learning."
Teach My aims to take the guesswork out of early learning without batteries, flashing lights or DVD's. Teach My Baby is the all-in-one learning kit for babies 6-18 months. The kit is divided into 4 sections; First Words, First Numbers, Self and Sound & Touch. For children 18 months to 3 years, Teach My Toddler is designed to help toddlers master the basics: alphabet, numbers, shapes and colors. Teach My Preschooler is designed for ages 3+. Preschoolers get ready to read, print, count to 100 and learn early math, all in one kit.
Teach My learning products are available online in the U.S. at Teachmy.com, Amazon.com, Babies R Us.com, Baby Universe.com, Barnes & Noble.com, BuyBuyBaby.com, Bed Bath & Beyond.com, Diapers.com, Drugstore.com, F.A.O.com, One Step Ahead.com, Target.com, Teachmy.com, Toys R Us.com, Walmart.com and at specialty retailers across North America.
For further information, please visit the new & improved Teach My website, www.teachmy.com
For more information contact
:
Christy Cook
President
Teach My
Phone: 416-488-7076
Email: christy@teachmy.com
Website: www.teachmy.com
Click here to view our Sources Listing: