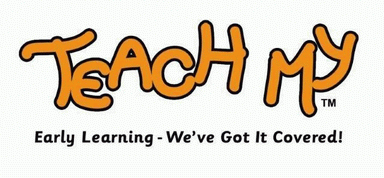 Give the Gift of Learning this Holiday Season with Teach My!
November 23, 2011
This year, little ones can receive a gift they will enjoy now and benefit from years later! Teach My has the perfect holiday gift that replaces toys and knick-knacks by combining learning and fun. The award winning Teach My learning kit series aims to teach little ones the basics such as first words, counting, recognizing letters, and reading! Little ones can unwrap a world of knowledge this holiday season.
Teach My takes the guess work out of early learning and creates a 'one stop shop' for parents and grandparents. The all-in-one kits have a variety of modern, age appropriate teaching tools to encourage supervised, educational play. Requiring no batteries or DVD's, the kits make 'smart' gifts. In our busy world, the kits encourage valuable one-on-one time.
Teach My Baby is the first kit in the learning series. It is designed for babies 6 to 18 months. The all-in-one kit has four sections; First Words, First Numbers, Self and Sound & Touch. The sections contain modern and multicultural coordinated teaching tools that encourage natural repetition for fun, educational play: nesting blocks, finger puppets, books, textured and mirrored flashcards, a story board, and one & two piece puzzles. MSRP $49.99
Teach My Toddler is designed to give toddlers 18 months to 3yrs a head start, in one kit. Teach My Toddler helps toddlers master the basics with four sections; the alphabet, numbers, shapes and colors. Each section is fully-coordinated with a total of five puzzles, four board books, four posters and four sets of flashcards.MSRP $49.99
Teach My Preschooler gets preschoolers ready to read, print, count to 100 and learn early math. Developed with education consultant, Judith Rowlands, M Ed., Teach My Preschooler gives children 3-6 yrs a head start, develops fine motor skills and increases school readiness skills. The kit has four sections; Ready to Read, Ready to Print, Ready for 1-100, and Ready for Math. Each section is fully-coordinated with books, flashcards, posters, a print guide and magic drawing board. MSRP $49.99
Teach My kits are available online at Amazon.com, Babies R Us.com, Baby Universe.com, Barnes & Noble.com, BuyBuyBaby.com, Bed Bath & Beyond.com, Diapers.com, Drugstore.com, F.A.O.com, One Step Ahead.com, Target.com, Toys R Us.com, Teachmy.com, Walmart.com and at specialty retailers across North America for $49.99. For further information, please visit www.teachmy.com
For more information contact
:
Christy Cook
President
Phone: 416-488-7076
Website: www.teachmy.com
Click here to view our Sources Listing:
Topics: