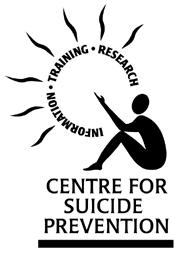 Centre for Suicide Prevention (CSP) Announcement Cyberbullying + Suicide: How Do We Stop This?
October 15, 2012
Centre for Suicide Prevention (CSP) Announcement
Cyberbullying + Suicide: How Do We Stop This?
Topic: Cyberbullying and Suicide
Place: Canadian Association for Suicide Prevention (CASP) Conference in Niagara Falls, Ontario
Presenters: CSP Curriculum Developer Suzanne McLeod
suzanne@suicideinfo.ca at (403) 245-3900 ext. 228
and CSP Librarian/Researcher Robert Olson
robert@suicideinfo.ca
Contact our presenters for more info on cyberbullying and suicide, or visit them at our CASP presentation on Cyberbullying on Tuesday, October 16 from 8:30 am to 11:30 am EST at Sheraton-on-the-Falls.
CASP Conference Keynote Speaker Andre Picard calls the rate of suicide an "epidemic."
We at CSP walk in their world; we go to the communities who need us, we train their leaders, we offer bereavement and support, we offer programs (like Tattered Teddies: Preventing Suicide in Children, Straight Talk: Youth Suicide Prevention and River of Life: Aboriginal Youth Suicide Prevention Online Course).
You can bring attention to the subject of cyberbullying and suicide! Consider the following story ideas:
- Kids need 'someone' in their lives
- Is mental health also an issue in the lives of kids who are bullied?
- Are bullies identifiable?
- Why do people bully?
- Do kids need all these 'friends' (on Facebook)?
- Do we pay attention to the whole child (physical, psychological, emotional, spiritual)?
- How do we stop this?
Thank you for your time and please don't hesitate to email our presenters.
You can also contact our Education Director, Mara Grunau, who is also attending the CASP Conference at mara@suicideinfo.ca or (403) 399-9197.
Centre for Suicide Prevention
www.suicideinfo.ca
Follow us on Twitter! @cspyyc
For more information contact
:
Suzanne McLeod
Curriculum Developer
Centre for Suicide Prevention
Phone: (403) 245-3900 ext. 228
Email: suzanne@suicideinfo.ca
Website: www.suicideinfo.ca
Robert Olson
Librarian/Researcher
Centre for Suicide Prevention
Email: robert@suicideinfo.ca
Website: www.suicideinfo.ca
Mara Grunau
Education Director
Centre for Suicide Prevention
Email: mara@suicideinfo.ca
Website: www.suicideinfo.ca
Click here to view our Sources Listing:
Topics: