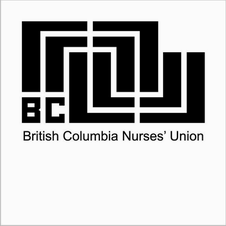 Nurses urge BC Liberal Cabinet to sign nursing bill into law
April 12, 2013
They deliver gigantic postcards covered with voters' signatures gathered this week in the Premier's constituency
Nurses today delivered six gigantic postcards covered with voters' signatures to the provincial Cabinet office in downtown Vancouver, urging the government to do the right thing to improve health care in BC by signing Bill 18 into law.
Bill 18 expands the definition of 'nurse' to include Licensed Practical Nurses. It would improve the delivery of healthcare by including LPNs in the same contract as registered nurses and registered psychiatric nurses.
"It makes things smooth, seamless and efficient. It's what health employers have been advocating for years," Debra McPherson, president of the BC Nurses' Union told reporters. "There is no reason for the government to delay and every reason to finish the job."
Last year LPNs voted decisively to join BCNU and leave unions that represent healthcare support staff. In March the Liberal government confirmed that democratic choice of nurses by introducing and passing Bill 18 in the Legislature.
"We were very pleased the government passed Bill 18. Now we want them to take the last step and sign an Order-in-Council to bring it into force," said Jonathan Karmazinuk who was elected by LPNs in the Fraser Health Authority to represent them on the BCNU's top governing body.
LPN Marlene Goertzen who represents LPNs from the Vancouver Coastal Health Authority said the postcard signatures came from voters on the streets in Christy Clark's riding this week. "There was lots of public support for nurses and for bringing all nurses together under Bill 18."
The employers' own bargaining agent long argued for including all nurses under the same bargaining umbrella to maximize efficiencies for quality patient care. In a brief to the provincial government in 2001, the Health Employers' Association of BC said "Employees performing similar functions with similar competencies working at the same employer should be governed by the terms of the Nurses' Provincial Collective Agreement."
McPherson criticized health authority CEOs for trying to stop the change. "Some of their hospitals scored a D in the recent CBC study because they don't have enough nurses able to practice to the best of their ability. Health authorities are supposed to be working to improve healthcare, not playing politics by undermining a measure that would make healthcare better."
For more information contact:
Art Moses, 604-868-4259
For more information contact
:
Debra McPherson
BCNU president
BC Nurses' Union
Phone: 604-209-4253
Website: www.bcnu.org
Art Moses
BCNU Communications
BC Nurses' Union
Phone: 604-868-4259
Email: amoses@bcnu.org
Website: www.bcnu.org
Click here to view our Sources Listing:
Topics: