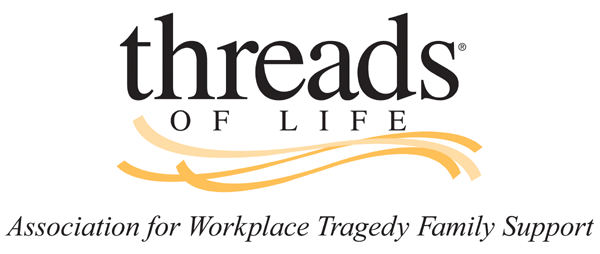 LCBO stores raise funds for Threads of Life
April 26, 2013
In 2011 in Ontario, 55 people were killed on the job. Each of those deaths leaves a wave of grief, confusion and loss that lasts a lifetime for family members, friends and co?workers.
Starting April 28, the public can help support those affected, by making a donation to Threads of Life at any of the 631 LCBO stores throughout Ontario. Donation boxes for Threads of Life will be displayed at LCBO checkout counters until May 25.
Threads of Life supports the healing journey of families who have suffered from a workplace fatality, traumatic life-altering injury, or occupational disease. It supports more than 1,400 family members across Canada. LCBO donations will be used to provide one?on?one peer support to these families in Ontario, and annual regional family forums where families attend to learn healthy coping skills.
?With LCBO?s support and the support of the public, we can raise significant funds to make a difference in the lives of hurting family members,? says Shirley Hickman, Executive Director, Threads of Life. ?Our hope is that by making people aware of the effects of workplace tragedy, we can help prevent future injuries and deaths.?
?As a socially responsible community partner, LCBO is pleased to partner with Threads of Life and support a variety of worthy causes,? says LCBO President & CEO Bob Peter. ?Through the generosity of LCBO customers and staff, we help improve the lives of countless Ontarians and make a difference where we live and work.?
Threads of Life is one of 28 provincial, as well as numerous local charities, that will benefit from LCBO?s province?wide donation box program in 2013. In 2011, LCBO raised more than $6.2 million for charities through special programs and initiatives, of which $5.7 million was raised through in?store fundraising. In addition, LCBO?s annual dividend transfer to the Ontario government, which totaled $1.63 billion in fiscal 2011?12, excluding taxes, supports a wide range of important government programs, services and priorities, including health care and education.
Threads of Life thanks the public for its support when shopping at their local LCBO store from April 28 to May 25.
For more information contact
:
Susan Haldane
Program Manager, Marketing and Communications
Threads of Life
Phone: 705-724-5679
Email: shaldane@threadsoflife.ca
Website: www.threadsoflife.ca
Stephanie Petroff
Senior Communications Consultant
Liquor Control Board of Ontario (LCBO)
Phone: 416 864?6792
Email: stephanie.petroff@lcbo.com
Website: www.lcbo.com
Click here to view our Sources Listing:
Topics: