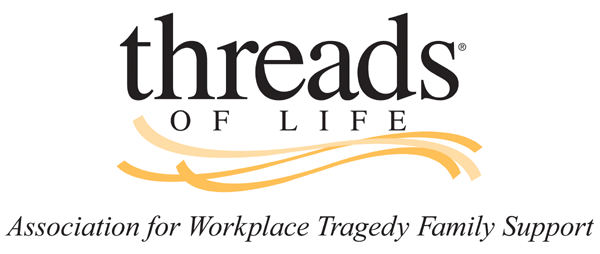 5,000 Canadians walk to honour and support families of workplace tragedy
May 3, 2013
FOR RELEASE SATURDAY MAY 4, 2013
When a tragedy happens at work - whether it's a fatality, a serious injury, or a work-related illness - family, friends, colleagues and community suffer too. Supporting those affected, and ultimately eliminating the suffering, is the goal for a series of walks across the country starting today.
Over the next 8 days, more than 5000 Canadians will walk in support of families affected by workplace fatalities, life-altering injuries and occupational disease, as part of the annual Steps for Life - Walking for Families of Workplace Tragedy. Across Canada, 32 communities will hold walks to boost awareness about the importance of injury prevention, and raise funds for Threads of Life family support programs and services. Last year, the funds raised for this national charity topped $430,000.
"A workplace tragedy devastates the whole family, not just for a few days or months, but for the rest of their lives," says Shirley Hickman, Executive Director for Threads of Life. "Families who have been affected by workplace tragedy do not want anyone else to experience the same pain and suffering. This is why we walk - to raise much needed community awareness. We believe that workplace injuries and illnesses are preventable and that it is the right of every worker to go home to their family at the end of the day."
In addition to family members who have experience workplace tragedy first hand, the walk is supported by federal and provincial members of parliament (see list attached), along with community and business leaders and compensation boards. Walks will be held coast to coast, from Vancouver to St. John?s .
Threads of Life is a Canadian charity (Charitable Organization Business # 87524 8908 RR0001) dedicated to supporting families along their journey of healing, after they've been affected by a workplace tragedy. It provides families with one-on-one peer support, links to community resources and other support. Steps for Life offers opportunities for families to walk with corporate leaders, workers, health and safety professionals and students to raise awareness about the importance of workplace safety, so every worker can come home safe. The charity currently supports more than 1,400 family members across the country.
For more information, contact:
Susan Haldane
Program Manager, Marketing and Communication, Threads of Life
shaldane@threadsoflife.ca
705-724-5679
Steps for Life VIP Participants 2013
Members of Parliament:
* Hon. Scott Brison, MP-Kings Hants
* Chris Charlton, MP-Hamilton Mountain
* Sean Casey, MP-Charlottetown
* Peter Stoffer, MP-Sackville/Eastern Shore
* Megan Leslie, MP-Halifax
* Tilley O'Neill Gordon, MP-Miramichi
Provincial Cabinet Ministers:
* Hon. Don Morgan, Q.C., Minister of Labour Relations and Workplace Safety, MLA-Saskatoon Southeast
* Hon. Jennifer Howard, Minister of Family Services and Labour, MLA-Fort Rouge
* Hon. Yasir Naqvi, Minister of Labour, MPP-Ottawa Centre
* Hon. Liz Sandals, Minister of Education, MPP-Guelph
* Hon. Don Scott, Q.C., Associate Minister of Accountability, Transparency and Transformation, MLA-Fort McMurray-Conklin
Members of Provincial Parliament or Legislative Assembly:
* Chuck Porter, MLA-Hants West
* David Dorwodd, MLA-Edmonton-Gold Bar
* Deron Bilous, MLA-Edmonton-Beverly-Clareview
* Bob Bailey, MPP-Sarnia-Lambton
For more information contact
:
Susan Haldane
Program Manager, Marketing and Communications
Threads of Life
Phone: 705-724-5679
Email: shaldane@threadsoflife.ca
Website: www.threadsoflife.ca
Click here to view our Sources Listing:
Topics: