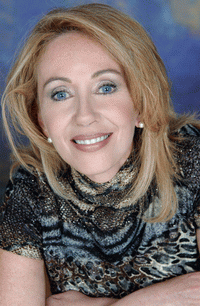 Fad Diet or Not: Celiac Expert Dispels Common Myths about Gluten-Free Diet
May 11, 2009
It's amazing what celebrity power can do to raise awareness about one of the most under-diagnosed common medical disorders in North America: celiac disease also known as gluten sensitive enteropathy.
Former "Survivor" contestant and television host, Elisabeth Hasselbeck, is the latest celebrity to shed light on her experience of living the gluten-free life.
Although interviews with celebrities like Hasselbeck are extremely helpful in raising awareness about the disease, "the celebrity halo may cause some people to go on a gluten free diet for the wrong reasons," says Shelley Case, RD, a celiac researcher, dietitian and author of Gluten-Free Diet: A Comprehensive Resource Guide.
Case recently set the record straight about celiac disease and going gluten-free in the hope of dispelling some of the more common myths about the diet.
Not Everyone Should Be on a Gluten-Free Diet
"It′s a myth that everyone should be on a gluten-free diet," says Case. "Just because alternative health practitioners, personal trainers and celebrities are jumping on the gluten-free bandwagon, doesn′t mean it is right for everyone." Case worries that too many people will look to the diet to solve a multitude of problems such as arthritis, ADHD, elevating energy levels and even weight loss. "Contrary to popular buzz, the GF diet is not a panacea diet" says Case.
A strict, life long gluten-free diet (no wheat, rye and barley) is the only effective treatment for celiac disease, an autoimmune disorder that affects 1 in 100 people. And yet only 5-10% percent of the population is accurately diagnosed with the gastrointestinal condition, which can affect everyone, from children to the elderly.
The disease affects people differently. For some, the symptoms may include bloating, abdominal pain, diarrhea and/or constipation, while for others it might be fatigue, bone or joint pain, mouth ulcers, migraines, irritability or depression. In fact, anemia is one of the most common symptoms in adults according to a study co-authored by Case and published in Digestive Diseases and Sciences.
Self-Diagnosis of Celiac Disease Can Be Dangerous
Case refutes the common myth that a trial gluten-free diet is the best way to determine if you have celiac disease. "Unfortunately a growing number of people are attempting to self-diagnose their own gluten sensitivity without proper medical assessment and nutrition counseling," says Case. "It′s absolutely imperative to see a physician BEFORE adopting a gluten-free diet."
Celiac disease is diagnosed by a specific blood test and small intestinal biopsy. Gluten must be present in the diet in order for these tests to confirm the diagnosis.
Without an official diagnosis, people may not be motivated to strictly follow the diet for the rest of their lives or receive further follow up care to monitor for potential complications of the disease that can include osteoporosis and gastrointestinal cancer. Furthermore, their relatives may not get screened for celiac disease if the family member does not have a confirmed biopsy proven diagnosis.
Case worries that many people will try this diet as the latest "fad" because of a celebrity status associated with it. As result, "those with celiac disease may not be taken as seriously in restaurants because everyone thinks it′s just a lifestyle choice or trendy obsession." Even small amounts of gluten can damage the intestinal tract. Because celiac disease is a serious lifelong disorder, it should be accorded the respect it deserves.
May is celiac awareness month in North America. For more information on Shelley Case's popular Gluten-Free Diet book and other valuable resources for consumers, health professionals, and the media visit www.glutenfreediet.ca
About Shelley Case:
Shelley Case, RD is a registered dietitian and a member of the Medical Advisory Boards of the Celiac Disease Foundation and Gluten Intolerance Group in the US and Professional Advisory Board of the Canadian Celiac Association. A leading international nutrition expert on celiac disease, Shelley has been researching gluten-free products for over 25 years. The latest edition of her book Gluten-Free Diet describes more than 3100 gluten-free products from more than 270 companies in the US, Canada and around the world. The book is viewed as the definitive gluten-free guide, and numerous celiac health experts like Dr. Alessio Fasano, MD and Dr. Peter Green, MD recommend all their patients to use this book.
If you'd like more information about this topic or to schedule an interview with Shelley Case, please call Tricia at 416 -259 -6611
For more information contact
:
Tricia Ryan
Phone: 416-259-6611
Email: tricia@themarketingchefs.com
Website: www.glutenfreediet.ca
Topics: