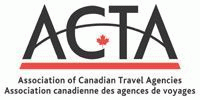 Sources welcomes Association of Canadian Travel Agencies (ACTA)
June 9, 2009
ACTA is a national trade association representing the retail travel sector of Canada's travel industry. Its members include travel agencies and suppliers such as tour operators, airlines, hotels, cruise/rail lines and automobile rental companies. ACTA represents the interests of travellers through 2,600 travel agencies employing 18,000 professionals across Canada.
For more information contact
:
Donavon Gaudette
Communications Manager
Association of Canadian Travel Agencies (ACTA)
Phone: 905-282-9294 x41
Email: DGaudette@ACTA.travel
Website: www.acta.travel
David McCaig
President and C.O.O.
Association of Canadian Travel Agencies (ACTA)
Phone: 604-231-0544 (direct line
Email: DMcCaig@ACTA.travel
Website: www.acta.travel
Topics: