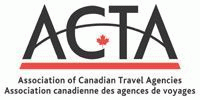 The Association of Canadian Travel Agencies (ACTA) reacts to the potential Visa confrontation between Mexico and Canada
July 17, 2009
July 17, 2009 Toronto - David McCaig, President and COO of the Association of Canadian Travel Agencies (ACTA) said, "The sudden imposition of travel Visa requirements for Mexican citizens arriving into Canada will hurt the domestic Canadian Tourism market at a time when any reduction in business will have a dramatic affect on the well-being of the Canadian Tourism industry. As an association, our greatest concern is that Mexican officials may be forced to retaliate with their own tourist Visa requirements. If there were to be a sudden burden of the same type of Visa requirements on Canadian citizens at the height of this upcoming travel season, consumers′ travel plans could be ruined. We need to make sure consumers can start planning their winter holidays without worries."
McCaig referenced yesterday′s remarks by Mexican Secretary of Foreign Relations Patricia Espinosa Cantellano after her meeting Canadian Foreign Minister Lawrence Cannon at the North American Trilateral Ministerial Meeting. Minister Espinosa said: (Via interpreter) "With respect to this issue, first of all, I′d like to repeat what we just said, how much we value our relationship with Canada; and, in that respect, to underline that in Mexico, every year, we get about 1,300,000 travelers from Canada. It′s one of the countries that brings an important number of tourists to Mexico". Minister Espinosa continued, "We have decided – and this was today communicated to the Canadian Government – that we are going to suspend the agreement to not use Visas in official and diplomatic passports."
McCaig cautioned, "While the Visa requirements for Canadian tourists have not taken place, the call for retaliation does dominate the headlines in Mexico. Canadian tourists traveling to Mexico must make their M.P. aware that they do not want any problems before their winter getaway. If we can get half of the 1, 300, 000 Canadians who visited Mexico to call their M.P. and ask them then to stop this Visa battle, we can put an end to this concern."
McCaig concluded by saying, "ACTA will request a meeting with Canadian Foreign Minister Lawrence Cannon to talk about ways to facilitate the easing of travel restrictions so that the tourists can enjoy the hospitality of each others country without worry".
# # #
Contact: Donavon Gaudette Tel: (888) 257-2282
About ACTA: ACTA is the national trade association representing the interests of over 2,500 travel agencies that employ about 18,000 retail travel professionals in communities across Canada. www.ACTA.ca
For more information contact
:
Donavon Gaudette
Dir. of Marketing and Communications
The Association of Canadian Travel Agencies (ACTA)
Phone: 905-282-9294
Cell: 416-801-1920
Email: dgaudette@acta.ca
Website: www.ACTA.ca
Topics: