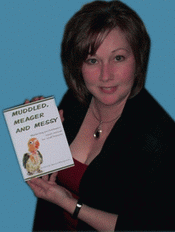 Review of the new book, MUDDLED, MEAGER AND MESSY, Marketing performance repair manual for small business.
October 8, 2009
By Neil McPherson, B.A. Dip. Ed., owner of Professional Word.
I recall a morning long ago, when I stood at the doorway of my dingy little office looking out for the first time. Across the corridor a lawyer came to his door and looked out. He and I were the same age; he had left a large company to set up his own legal practice, while I had escaped the embrace of a big national broadcasting organization, after 16 years of regular salary. My colleague across the way peered anxiously down the corridor.
"Who are you looking for?" I asked.
"My next customer," he replied.
Welcome to small business.
Neither of us knew much about marketing. Didn′t even think it was required.
I wish I had known Wendy Moore-MacQueen then, and her book.
It′s called "Muddled, Meager and Messy – Marketing performance repair for small business". Here the author Wendy Moore-MacQueen provides just the reassuring springboard for small business owners that I once needed to begin my journey through a jungle of complexities and heaps of contradictory advice that lay ahead.
When some poor fool decides, "I am ready: I have a useful product and a new service. How do I market them?" it is Wendy′s book they need: crisp, clear, precise answers. Essential stuff; rarely found right away. There is no hype at all. No visions of sugar plums. This is Reality City, where small business lives.
Ms. Moore-MacQueen has produced a new book that is a timely reminder of vital steps owner-managers perhaps completely forget or simply overlook. Steps like a business plan and an informed snapshot of the market. This soft-cover publication will help even experienced small business operators, who face reviewing their progress and beefing up their opportunities for growth in harsh economic conditions.
Couched in a breezy, happy, chatty style that speaks with her readers, Moore-MacQueen draws generously from her gift bag of daily experience as a consultant and guide. An easy read, especially its useful chapters on client focus and consistent use of marketing methods, it holds out firmly for the necessarily unique identity and usefulness of your small business. While she concentrates on a wide range of traditional media, the writer incorporates other `online′ marketing options like the Internet and social web sites.
Tongue-in-cheek at times she adopts an almost comforting, protective tone as she tutors her readers to map their perilous way, carefully and clear-eyed, through the pitfalls and fallacies lying in wait. Small Business is tough and Moore-MacQueen doesn′t pretend otherwise. Readers will realize she has `done the hard yards′. The best kind of advisor.
The strength of her live experience backs her up well, for Wendy Moore-MacQueen is a genuinely no-nonsense advisor and a great antidote to guru-claptrap merchants.
"Muddled, Meager and Messy" provides a treasury of useful tips and action outlines for improving marketing performance in any place at all. Most of the ideas apply, even if the additional resource addresses require a little localizing. Wherever they are, readers will come away from this book with a clear idea about where to look for their next stages or to locate accessible information or creative skills to help drive their marketing forward.
Neil McPherson B.A. Dip. Ed.
In past experience, Neil was a broadcaster with the Australian Broadcasting Corporation: producer for radio & television, educational, public affairs and features. He has worked for PBS television in the United States, ABC radio and as manager of public relations and senior writer for a number of international businesses. He is now a freelance writer, living in Germany.
For more information contact
:
Wendy Moore-MacQueen
author, keynote speaker, consultant
Mormac Brand Re-engineering
Phone: 519-898-2997
Cell: 519-636-3613
Email: wendy@mormac.ca
Website: www.mormac.ca
Topics: