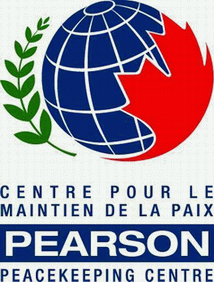 The Pearson Peacekeeping Centre to Build Capacity in Latin America
October 15, 2009
OTTAWA, Canada (October 15, 2009) – The Pearson Peacekeeping Centre (PPC) will be working with Latin America Training Centres and their association, ALCOPAZ, to enhance their ability to provide civilians, military and police support for United Nations peace operations.
By improving the levels of communication and integration between the Latin American countries that comprise ALCOPAZ (Argentina, Brazil, Chile, Ecuador, Guatemala, Peru, Uruguay and Paraguay), police and military from those countries will be better suited and prepared for deployment into United Nations peace operation missions. The PPC will work with the contributing countries to deal with increasingly complex situations through a process of meetings, guided consultations, training courses and capacity building activities.
"The PPC′s integrated approach to peacekeeping training will undoubtedly be a positive force in the Latin American countries," said Suzanne Monaghan, President of the PPC. "Through this project, we will reinforce the importance of bringing together police and civilian perspectives with that of the military in order to make peace operations more effective."
The PPC is actively involved in building capacity of institutions and organizations in more than 30 African countries. Funding for this Latin American Capacity Building initiative comes from the Department of Foreign Affairs and International Trade (DFAIT). This three-year project is expected to enhance significantly the contribution of Latin American countries to peacekeeping missions.
"The Latin America Training Centres will benefit from the increased collaboration and cooperation with one another. An additional objective of this project is to assist in the delivery of harmonized training to officers from each of the ALCOPAZ countries," said Mike Snell, PPC Project Manager. "As this project proceeds, the ALCOPAZ centres will also be able to work better with the United Nations Department of Peacekeeping Operations and the United Nations Mission in Haiti."
As part of the capacity building program, several training activities are planned to address cross-cutting themes, including elections, corruption, and sexual and gender-based violence. These themes have been identified by the PPC as critical issues that will affect the success of their capacity building work with the ALCOPAZ countries.
The Pearson Peacekeeping Centre is a Canadian institution dedicated to making international peace operations more effective through research, education, training and capacity building.
- 30 -
Information:
Lucie Laurion, Director of communications
613-520-5617, ext. 5950
llaurion@peaceoperations.org
For more information contact
:
Brian Seto
Communications Officer
Pearson Peacekeeping Centre
Phone: 613-520-5617 Ext. 5954
Email: bseto@peaceoperations.org
Topics: