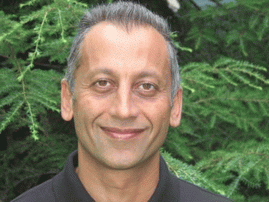 Anavex appoints contract research organizations to initiate Phase I/IIa clinical programs, regulatory strategies in Alzheimer's disease
August 10, 2010
CALIFON, NJ, BASEL, Switzerland and DRESDEN, Germany – August 10, 2010 - Anavex Life Sciences Corp. ("ANAVEX") (OTCBB: AVXL) today announced that it has signed a definitive master services agreement with Genesis BioPharma Group ("Genesis") and ABX-CRO Advanced Pharmaceutical Services ("ABX-CRO") to begin clinical studies and regulatory filings for ANAVEX 2-73, its lead compound for the treatment of Alzheimer's Disease.
"Selecting Genesis and ABX-CRO to advance ANAVEX 2-73 to the clinical research phase is a major milestone for us", states Dr. Cameron Durrant, Executive Chairman of Anavex. "Both partner organizations have a strong track record of conducting and managing, successful pre-clinical and clinical studies in Alzheimer's disease, including regulatory approaches. Genesis' competence in constructing and managing a strong and well thought out study plan makes them an ideal partner for ANAVEX 2-73. Furthermore, we have been impressed with the expertise ABX-CRO has demonstrated in the conduct of Phase I/IIa studies and their excellent relationships with leading academic centers."
Phase I dosing of healthy human volunteers with ANAVEX 2-73 is scheduled to begin this year, followed by Phase IIa work in early 2011 which is expected to provide some initial patient efficacy data.
Dr. Angelos Stergiou, Genesis' President and COO, states "Our clinical development and regulatory affairs expertise with the FDA, EMEA and local health authorities will assure that the upcoming ANAVEX 2-73 Phase I/IIa study will be performed under strict ICH-GCP, cGLP and cGMP guidelines. In our opinion, the design of this study is state-of-the-art."
ANAVEX 2-73 is the first of a new class of compounds which act through sigma-1 receptor agonism as well as muscarinic cholinergic effects and modulation of endoplasmic reticulum stress thought to trigger a series of intracellular effects which modify ion channel signaling at the mitochondrial level. The company has completed pre-clinical studies which have included oral and IV dosing, including 28-day animal toxicity studies. Rats, mice and dogs have been studied.
"ABX-CRO is extremely pleased that ANAVEX has chosen us as partner to conduct this innovative Phase I/IIa program for ANAVEX 2-73. Using our unique translational medicine approach, ANAVEX 2-73 will be tested for behavioral, neuropsychological and metabolic drug effects, in addition to conventional phase I characterization. ABX-CRO has run a number of early phase projects in Alzheimer's Disease, and is a leader in implementing PET studies for CNS & oncology candidate development. The study will encompass a three-part approach collecting information on safety and tolerability in single and multiple ascending doses, pharmacokinetics , oral bioavailability, and efficacy. Exploratory biomarkers, pre- / post- neuronal glucose consumption, and comprehensive psychometric test batteries, go beyond what is typically investigated in a Phase I/IIa study. Our toxicologists and clinical pharmacologists have very carefully evaluated ANAVEX 2-73 in order to move into the Phase I study, " ABC-CRO's Managing Director, Dr. Andreas Kluge stated.
"A strict audit program has been implemented in the review of all previous pre-clinical projects as well as the upcoming Phase I/IIa clinical studies to assure all data and reports will be used optimally in regulatory and health authority discussions," Dr. Stergiou concluded.
About Anavex Life Sciences Corp.
Anavex Life Sciences Corp. (www.anavex.com) is a biopharmaceutical company engaged in the discovery and development of novel drug candidates for the treatment of neurological and cancer diseases. The company's proprietary SIGMACEPTOR™ Discovery Platform involves the rational design of drug compounds that fulfill specific criteria and are targeted to specific receptors involved in the modulation of multiple cellular biochemical signaling pathways.
ANAVEX's SIGMACEPTOR™-N program involves the development of novel drug candidates that target neurological and neurodegenerative diseases (Alzheimer's disease, epilepsy, depression, pain). The company's lead drug candidates exhibit high affinity for sigma receptors, which have been extensively documented as potentially valuable drug targets and have demonstrated anti-amnesic and neuroprotective properties.
Anavex is a publically traded company under the symbol "AVXL".
Forward-Looking Statements
Statements in this press release that are not strictly historical in nature are forward-looking statements. These statements are only predictions based on current information and expectations and involve a number of risks and uncertainties. Forward-looking statements in this press release include that our drug compounds show promise to combat certain diseases. Actual events or results may differ materially from those projected in any of such statements due to various factors, including the risks and uncertainties inherent in drug discovery and development, which include, without limitation, the potential failure of development candidates to advance through preclinical studies or demonstrate safety and efficacy in clinical testing and the ability to file an IND or commence clinical studies. You are cautioned not to place undue reliance on these forward-looking statements, which speak only as of the date hereof. This caution is made under the safe harbor provisions of the Private Securities Litigation Reform Act of 1995. All forward-looking statements are qualified in their entirety by this cautionary statement and Anavex Life Sciences Corp. undertakes no obligation to revise or update this press release to reflect events or circumstances after the date hereof.
For Further Information
Anavex Life Sciences Corp.
Research & Business Development
Email: info@anavex.com
Shareholder & Media Relations
Toll-free: 1-866-505-2895
Outside North America: +1 (416) 489-0092
Email: ir@anavex.com
www.anavex.com
For more information contact
:
Primoris Group Inc.
Shareholder & Media Relations
Anavex Life Sciences Corp.
Phone: 1-866-505-2895
Email: ir@anavex.com
Website: www.anavex.com
Click here to view our Sources Listing:
Topics: