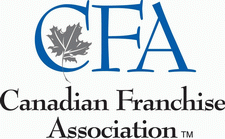 Canadian Business Leaders to Meet in Toronto at the CFA National Convention
April 27, 2009
(Toronto, ON) April 23, 2009… Boston Pizza International, Baskin Robbins Worldwide, Kumon Canada, McDonald′s Restaurants Canada, M&M Meat Shops, The Cora Franchise Group, A&W Food Services of Canada, Regis Corporation. Some of the biggest names in Canadian business will gather at the Westin Prince Hotel in Toronto, Ontario from May 3 – 5 for the 18th annual Canadian Franchise Association (CFA) National Convention.
With over 78,000 franchises in Canada, the franchise industry accounts for 10 percent of Canada′s gross domestic product, generating more than $90 billion in sales every year and employing more than a million Canadians. Over 200 franchising leaders and support service professionals are expected to attend the industry′s premier event of the year to share best practices, network and celebrate Canada′s top franchise systems.
The winner of the industry′s highest honour, the CFA Award of Excellence in Franchising, will be announced at an awards presentation dinner on Monday, May 4. The selection process is based on a comprehensive survey of franchisor performance by franchisees across Canada. 35 companies are vying for the award. This year, the competition includes four categories to enable franchise systems to be rated against their peers. From amongst the winners in each category, the franchise system with the highest overall score is awarded the coveted CFA Award of Excellence in Franchising.
That same evening, the Canadian franchise industry will recognize the very best in franchise advertising at the Frankie Awards. This year, 193 entries were submitted by franchisors, advertising agencies and franchising support service providers across Canada. The entries were reviewed by a panel of subject matter expert judges and judged on clarity of message, originality of concept, effective use of medium, quality of execution, and overall presentation. The top three in each category win gold, silver and bronze awards.
On Tuesday, May 5, CFA presents the CFA Recognition Awards at the Closing Luncheon. CFA Recognition Awards pay tribute to individuals and franchise systems for their outstanding achievements and contributions to the Canadian franchise community and for their extraordinary commitment and contributions to philanthropic endeavours. Nominations were solicited from CFA members across Canada and selected based on merit by committee.
The National Convention will include four Keynote Speakers. On Sunday, May 3 at 5 p.m., Convention attendees will listen to an insightful address by Cameron Herold, Founder of Backpocket COO, who will share his tips and tricks to build business and increase profits, no matter the economic situation. Srinivas Kumar, Chief Brand Officer of Baskin Robbins Worldwide, will speak on Monday, May 4 at 9 a.m. as he shares his insights on how to maximize and leverage a brand to meet the needs of customers. Douglas Porter, Deputy Chief Economist & Managing Director of BMO Capital Markets, simplifies and de-mystifies the complexity of the economic crisis and provides a financial outlook for Canada. Jim Treliving, Chairman and Founder of Boston Pizza International, delivers the closing address on Tuesday May 5 at 2:30 p.m. Fans of CBC Television′s hit show, "The Dragon′s Den," will know Treliving′s cut-to-the-chase style and Treliving will share his sometimes brutally honest insights and observations on the economy, franchising today and what the future may hold for the success of business
The CFA National Convention will have 16 concurrent workshops led by leading experts in the franchise industry who will speak on topics such as market development, marketing and public relations, trademarks and franchise recruitment. A selection of 15 Roundtable Discussions on Monday, May 4 will offer constructive insights into a number of key business issues including risk management, social networking, workplace safety and succession planning.
For more information about the 18th annual CFA National Convention, the CFA Awards of Excellence in Franchising, and the Frankie Awards, visit www.cfa.ca.
About the Canadian Franchise Association (CFA)
With almost 500 corporate members nation-wide, representing many of Canada′s best-known brands, the Canadian Franchise Association is the National Voice for Canadian Franchising and works with all levels of government to ensure the development of industry-made solutions. CFA promotes ethical franchising and educates Canadians about franchising, specific franchise opportunities and proper due diligence through its many events, programs and publications. For more information, visit www.cfa.ca.
# # #
For media accreditation, more information, and/or to arrange an interview
with CFA President & CEO Lorraine McLachlan, please contact:
Kenny Chan
Assistant Manager, Communications
E-mail: kchan@cfa.ca
Tel: 800-665-4232 ext. 232
Lauren d′Entremont
Communications Assistant
E-mail: ldentremont@cfa.ca
Tel: 800-665-4232 ext. 238
For more information contact
:
Kenny Chan
Assistant Manager, Communications
Canadian Franchise Association
Phone: 416-695-2896 x 232
Email: kchan@cfa.ca
Website: www.cfa.ca
Subject Headings: