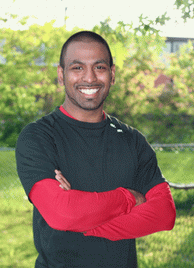 With Proper Time Management Exercise Can Fit into Your Holiday Schedule
November 23, 2009
For Immediate Release
Exercise during the holiday season is not as far fetched as one might think. The key to succeeding is managing your time to allow a couple of sessions a day. In addition, the type of exercise that will be the most beneficial should be used.
Toronto, Ontario November 23, 2009 - Marci Lall, weight loss specialist and personal trainer since 2002, knows how hectic the holiday season can get. However, he also knows that most people do not realize that with proper management they will have more time than they think.
There are always breaks in between the hustle and bustle of planning, wrapping, cooking and cleaning. This is the perfect time for getting in a half hour of beneficial exercise. This is essential to provide the calorie burning needed especially during the holidays as well as improving cardio health.
According to weight loss and body sculpting specialist, Marci Lall, "If there were two times of the day where this could prove most helpful, the earliest time in the morning and late in the evening prior to going to bed could deliver excellent results. In some instances, you may need to wake up a half hour earlier or go to bed a half hour later, but the end result will be the same: you will discover significant benefits to your workout session."
The basis for exercising at in the morning is the benefits provided since this is the time when stored calories are burned. Before bed, using lightweight dumbbells for an exercise routine can help the body to repair muscle. This will aid in boosting the resting metabolic rate which allows the body to burn stored fat.
Marci is currently the head moderator of Feminine Fit Institute where he helps women meet their weight loss goals. He is also very involved in online training, one on one training and group training. With a passion for helping those who want to lose weight, he can help women come up with an individual plan for weight loss.
Marci says, "It is also helpful to point out that not all exercise sessions need to be of a high intensity level in order to deliver results. Something as simple as walking a few steps will lead to an improvement in overall weight loss potential."
The important thing is to make time for exercise during the holidays as well as the rest of the year. This will allow the body to be healthier and keep excess pounds from adding up. Results are not as hard to achieve as one might think given the right motivation and about an hour a day.
If you are interested in learning more about the programs Marci Lall offers please go to his website at: http://www.marcilall.com or you may contact him at Marci Lall , Feminine Fit Institute, 18B - 3200 Dufferin Street, Suite #104, Toronto, ON, M6A-0A1 CANADA. The telephone number is 1.800.709.0413.
For more information contact
:
Marci Lall
Feminine Fit Institute
Phone: 1 800 709 0413
Email: support@femininefiti.com
Website: www.marcilall.com
Topics: