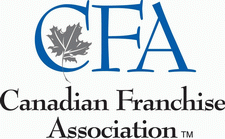 Canada's Franchise Leaders Convene at the 2012 CFA National Convention
March 21, 2012
(Toronto, ON) March 21, 2012 - Jim Treliving and George Melville, Co-Chairmen and Co-Owners of Boston Pizza International, will be attending the 21st annual Canadian Franchise Association (CFA) National Convention to accept a Lifetime Achievement Award. Treliving and Melville are just two of the esteemed franchise leaders who will be gathering in Niagara Falls, Ontario from April 1-3 to network, share best practices and celebrate excellence at Canada?s premier franchising event.
500 franchise professionals are expected to attend this year, representing some of Canada's leading brands including McDonald's Restaurants of Canada, Canadian Tire, Cara Operations, Maaco Canada, Nurse Next Door, Dairy Queen Canada, M&M Meat Shops and A&W Food Services of Canada.
Rounding out three days of in-depth educational programming, CFA National Convention will feature three Keynote Speakers:
* On Monday April 2 at 9 a.m., Convention attendees will listen to an inspiring address by Lana Duke, award-winning Legacy Franchisee of Ruth's Chris Steak House. Duke, who was born and raised in Ontario, was a close friend of Ruth Fertel, the late franchisor of Ruth's Chris Steak House, and helped build the franchise into an international brand. She is the marketing maven behind Ruth's Chris Steak House's signature "sizzle" and the owner of the largest woman-owned advertising agency in the U.S. Gulf South. Duke will share her insights gleaned from her vast and colourful career.
* Darren Moffett, Vice President of Customer Programs for Canadian Tire Corporation will deliver an insightful keynote presentation on Tuesday, April 3 at 9:30 a.m. to share Canadian Tire's monumental journey to become the global leader in customer-centric business practices by putting customers at the centre of every single business decision.
* Greg Nathan, Managing Director of Franchise Relationships Institute, delivers the closing address on Tuesday, April 3 at 1:00 p.m. to share a number of powerful findings from a new international study into what really drives franchisee performance and satisfaction. Widely regarded as the world's foremost authority on the franchise relationship, Nathan was also named by USA Franchise Times as one of the Top 10 thought-leaders in franchising.
The CFA National Convention will also feature a critical plenary session on "Real Estate: Current and Future State of the Nation". Bringing together some of the foremost leaders and experts in real estate, this panel presentation will examine the most pressing real estate issues facing the franchise industry today.
On Monday, April 2, attendees will celebrate their peers at the much anticipated Gala Awards Presentation. This year, CFA Recognition Awards will be presented to the following franchise systems and professionals:
* White Spot will receive the CFA Hall of Fame Award for its outstanding performance over 84 years in business.
* Jim Treliving and George Melville of Boston Pizza International will receive CFA Lifetime Achievement Awards for their exceptional achievement and contribution to Canadian franchising.
* TWO MEN AND A TRUCK - CANADA will receive the CFA Corporate Citizenship Award for its groundbreaking MIKEY ON BOARD program.
* Blair Rebane, Partner at Borden Ladner Gervais, will receive the Vince Nichols Memorial Award for his dedication as a CFA volunteer and contributions as an ambassador for franchising in Canada.
During the Gala Awards Presentation, CFA will also announce the winners of the CFA Awards of Excellence in Franchising and the Franchisees' Choice Designation. Based on the results of a comprehensive survey of franchisor performance by franchisees across Canada, these highly coveted awards celebrate the mutually-rewarding relationship between a franchise system and its franchisees.
The CFA Awards of Excellence will be presented to the highest scoring franchisors in each of four categories. Then, from among the four category winners, one franchise system will receive the prestigious CFA Award of Excellence in Franchising Grand Prize.
For more information about the 21st annual CFA National Convention, the CFA Awards of Excellence in Franchising, Franchisees' Choice Designation, and the CFA Recognition Awards, visit www.cfa.ca/NationalConvention.
About the Canadian Franchise Association (CFA)
With over 500 corporate members nation-wide, representing many of Canada?s best-known brands, the Canadian Franchise Association is the national voice for franchising in Canada and works with all levels of government to ensure the development of industry-made solutions. CFA promotes excellence in franchising and educates Canadians about franchising, specific franchise opportunities and proper due diligence through its many events, programs and publications. For more information, visit www.cfa.ca.
For more information contact
:
Kenny Chan
Senior Manager, Communications
Canadian Franchise Association
Phone: 1-800-665-4232 ext. 232
Email: kchan@cfa.ca
John Sacke
Sacke & Associates
Phone: 416-493-5723 ext. 201
Cell: 647-886-0750
Email: johns@sackepr.com
Click here to view our Sources Listing:
Topics: