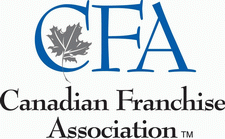 Canadian Franchise Association Announces Winners of the 2012 CFA Recognition Awards
April 5, 2012
(Toronto, ON) April 5, 2012? The Canadian Franchise Association (CFA) (www.cfa.ca) announced the winners of the 2012 CFA Recognition Awards on April 2, 2012. The awards were presented during a gala awards presentation dinner at the 21st annual CFA National Convention in Niagara Falls, Ontario.
CFA Recognition Awards pay tribute to individuals and franchise systems for their achievements and contributions to the Canadian franchise community and for their commitment and contributions to philanthropic endeavours. Nominations are solicited from CFA members across Canada and winners are selected by committee based on merit.
?The CFA Recognition Awards are about excellence in the franchise community,? says CFA President and Chief Executive Officer, Lorraine McLachlan. ?Franchising is a significant and growing business sector in Canada making positive contributions to the Canadian economy and the community-at-large. Our prestigious CFA Recognition Awards celebrate these contributions ? whether corporately through the CFA Hall of Fame, individually through the CFA Lifetime Achievement Award and Vince Nichols Memorial Award, or socially through the CFA Corporate Citizenship Award. We congratulate all the winners on their achievements.?
The recipients of the 2012 CFA Recognition Awards are:
Category: CFA Hall of Fame Award
Recipient: White Spot Restaurants
White Spot began as a travelling lunch counter serving hot meals to Vancouver tourists. Today, it is an iconic Canadian brand and one of North America?s oldest restaurant chains. Along the way, White Spot has consistently reinvented itself while maintaining the essence of its beloved brand, no small feat after 84 years in business. From its Red Seal Chef certification program to community support, White Spot is continues to build on its success.
The CFA Hall of Fame Award is presented in recognition of outstanding performance by a franchise system over a significant period of time. Winners have high brand recognition (on either a regional or national scope) and are recognized for their solid business performance. They exhibit leadership in the franchise community in many ways including: encouraging excellence through sharing best practices; participating in speaking engagements; exhibiting a willingness to mentor new franchisors, and raising the profile of the franchise business model.
Category: CFA Lifetime Achievement Award
Recipients: Jim Treliving and George Melville, Chairmen and Owners, Boston Pizza International
At a time when pizza was still considered an exotic food in Canada, Jim Treliving and George Melville left secure jobs to pour their time, energy and resources into a small pizza franchise in Western Canada.
Their foresight paid off. Under their leadership, Boston Pizza has grown to over 390 restaurants in North America and has been recognized as one of Canada?s Best Managed Companies and Most Admired Corporate Cultures.
On top of their own franchise system?s success, they have helped countless other entrepreneurs grow their businesses, providing them with guidance and financial support. They are also committed to supporting the wider community, having raised over $12 million for various causes through the Boston Pizza Foundation.
The CFA Lifetime Achievement Award recognizes exceptional achievement and contribution to Canadian franchising and the community-at-large through demonstrated excellence throughout one?s lifetime and career in franchising. This award typically honours an individual who may be a franchisor, franchisee, or a support services provider. Hallmarks of excellence include a high profile and leadership recognition in the franchise community, speaking engagements, published articles, mentorship and being an ambassador for franchising.
Category: CFA Corporate Citizenship Award
Recipient: TWO MEN AND A TRUCK CANADA
Every 12 minutes, someone in Canada experiences sudden cardiac arrest. The Mikey Network charity was established in memory of Mike Salem to help people suffering sudden cardiac arrest get a second chance at life by making public access defibrillators, known as MIKEYs, more widely available.
TWO MEN AND A TRUCK CANADA is a committed partner and supporter of the Mikey Network, helping it to place MIKEYs in as many locations as possible. The company has also equipped all of its moving trucks across Canada with MIKEYs, and trained its franchisees and employees in emergency first aid and CPR. With TWO MEN AND A TRUCK?s assistance, the Mikey Network helps ensure that the beat goes on.
The CFA Corporate Citizenship Award is given to a franchise system that has demonstrated genuine and ongoing concern and support for a community or social service group(s). Award recipients are selected based on their philanthropic innovation, support and impact to the community whether on a local, regional, national or global scale. Elements taken into consideration include involvement throughout the franchise system and integration into the corporate culture, profile given to the support recipient organization(s), sustainability, innovation in how funds are raised, demonstrated benefit to the community, and amount of funds raised.
Category: Vince Nichols Memorial Award
Recipient: Blair Rebane, Partner, Borden Ladner Gervais LLP
Blair Rebane, an active and long-standing member of the CFA, has volunteered with the Association in many capacities: as a past legal advisor to the CFA Pacific Region Council, a valued contributor to CFA publications, and a regular speaker at CFA?s many educational events.
As National Leader of his law firm?s Franchise and Distribution Group, he has advised some of Canada?s largest franchisors and is regarded as a leading expert in his field. Most recently, he was selected by his peers for inclusion in Franchise Law?s Best Lawyers in Canada 2012.
Presented in memory of Vince Nichols, this award is given to an individual who, through their volunteer activities and work as an ambassador for franchising, helps the CFA grow, evolve, and deliver on its mission and vision. Vince Nichols was the Director of Franchising for Maple Leaf Mills and was a dedicated volunteer with CFA. His entrepreneurial spirit and dedication as a volunteer opened new opportunities for CFA to better serve the franchise community.
For more information about the CFA Recognition Awards, please visit: http://tinyurl.com/2b9keh7.
About the Canadian Franchise Association (CFA)
With over 500 corporate members nation-wide, representing many of Canada?s best-known brands, the Canadian Franchise Association is the National Voice for Franchising in Canada and works with all levels of government to ensure the development of industry-made solutions. CFA promotes excellence in franchising and educates Canadians about franchising, specific franchise opportunities and proper due diligence through its many events, programs and publications. For more information, visit www.cfa.ca
# # #
For more information contact
:
Kenny Chan
Senior Manager, Communications
Canadian Franchise Association
Phone: 800-665-4232 ext. 232
Email: kchan@cfa.ca
Website: www.cfa.ca
John Sacke
Sacke & Associates
Phone: 416-493-5723 ext. 201
Cell: 647-886-0750
Email: johns@sackepr.com
Click here to view our Sources Listing:
Topics: