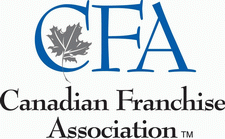 Canadian Franchise Association Announces 2009 Frankie Award Finalists
April 14, 2009
Toronto - The Canadian Franchise Association (CFA) is pleased to announce the 2009 Frankie Award finalists in 15 categories, representing the top advertising and marketing creative in Canadian franchising.
Panago Pizza led the way with 12 finalist placements in six categories. Panago Pizza is a successful delivery/takeout pizza franchise from Western Canada with a people-first philosophy and penchant for innovation. Mr. Lube had five finalist placements in three categories, taking all three finalist spots in the Radio Commercial category. With four finalist placements in two categories, Prime Restaurants Canada dominates the Newspaper Advertisement category.
Frankie Award entries are submitted by franchisors, advertising agencies and franchising support service providers across Canada. This year, 193 entries were reviewed by a panel of judges among the top professionals in the fields of creative, production and marketing.
The entries were judged on clarity of message, originality of concept, effective use of medium, quality of execution, and overall presentation. The top three in each category win gold, silver and bronze awards. The gold winner is presented with a Frankie Award statuette and certificate. Silver and bronze winners receive Frankie Award certificates.
The Humber College Award recognizes three entries with a Gold, Silver and Bronze award from all submissions in every category for overall exceptional design as voted by the college′s Advertising and Graphic Design students.
Produced by CFA, this year′s Frankie Awards winners will be announced at the Awards Presentation Dinner on Monday, May 4 from 6:30 – 10:30 p.m. during the annual CFA National Convention at the Westin Prince Hotel in Toronto Ontario.
The 2009 Frankie Award Finalists are:
Brochures – Business to Business
Golden Griddle – We Fit Your Lifestyle (Agency: As You Like It Marketing)
Print Three Franchising Corporation – Putting the Right Pieces Together (Agency: Eden Advertising)
Salad Creations – Fresh is Fabulous (Agency: As You Like It Marketing)
Sunshine Grounds Care – We Care... All Year (Agency: As You like It Marketing)
Brochures – Consumer / Retail
Panago Pizza – Panago In-store Brochures (Agency: Mercer Creative)
Panago Pizza – Recipe Book (Agency: Mercer Creative)
Salad Creations – Fresh is Fabulous (Agency: As You Like It Marketing)
Corporate Identity
Crock A Doodle – Paint it Yourself Pottery (Agency: In-house)
Panago Pizza – Panago Store Design / ID (Agency: Mercer Creative)
The Lunch Lady Group – Lunch Lady Land (Agency: In-house)
Direct Marketing
Panago Pizza – June 2008 New Thin Crust (Agency: Mercer Creative)
Panago Pizza – Recipe Book (Agency: Mercer Creative)
Print Three Franchising Corporation – Get Noticed with 1-to-1 (Agency: Eden Advertising)
Two Men and a Truck – Business in a Box (Agency: As You Like It Marketing)
Franchise Support Service
As You Like It Marketing – Umami (Agency: In-house)
Pottruff & Smith Insurance Brokers – Insurance Q&A (Agency: In-house)
Sotos LLP – We′re In The Know (Agency: As You Like It Marketing)
Humber College Award
Midas – Chase (Agency: DDB Canada)
Mr. Lube – Bracelet (Agency: Rethink Communications)
New York Fries – Real Fries in a Fake World (Agency: In-house)
Internet
Panago Pizza – Panago.com (Agency: Mercer Creative)
Panago Pizza – Panagofranchise.com (Agency: Mercer Creative)
White Spot – www.whitespot.ca (Agency: Wasserman + Partners Ad Inc)
Yogen Früz – www.yogenfruz.com (Agency: In-house)
Magazine Advertisement
New York Fries – Real Fries in a Fake World (Agency: In-house)
Panago Pizza – Fall Campaign for Today′s Parent (Agency: Mercer Creative)
Thrifty Car Rental – Lost is a Four-Letter Word (Agency: FKQ Advertising & Marketing)
Media Campaign
Casey′s Grill • Bar – Order Up Some Summer (Agency: In-house)
Mr. Lube – Loyalty Campaign (Agency: Rethink Communications)
Panago Pizza – December Promo (Agency: Mercer Creative)
Newspaper Advertisement
Prime Restaurants Canada – 2 Pint Friday (Agency: In-house)
Prime Restaurants Canada – Fall Plat Du Jour (Agency: In-house)
Prime Restaurants Canada – Keith′s Kitchen Party Wednesday (Agency: In-house)
Package Design
Panago Pizza – Cucina Packaging (Agency: Mercer Creative)
Panago Pizza – Juice Boxes (Agency: Mercer Creative)
Shoeless Joe′s – Hall of Famer Box (Agency: Bradshaw Design Solutions)
Point of Purchase
Mucho Burrito – Don′t Touch My Burrito (Agency: As You Like It Marketing)
The Firkin Group of Pubs – Say FU to Student Debt (Agency: JAN Kelley Marketing)
Prime Restaurants Canada – 2 Pint Friday (Agency: In-house)
Yogen Früz – Yogen Früz Menu Board New Identity (Agency: In-house)
Radio Advertisement
Mr. Lube – Customer Appreciation (Agency: Rethink Communications)
Mr. Lube – Downhill (Agency: Rethink Communications)
Mr. Lube – Magic Wrench (Agency: Rethink Communications)
Television Advertisement
M&M Meat Shops – Pile Driver (Agency: Taxi 2)
M&M Meat Shops – Yahoo Boohoo (Agency: Taxi 2)
Midas – Chase (Agency: DDB Canada)
Tradeshow Booth
Booster Juice – All This Fruit... (Agency: Windship International)
The Firkin Group of Pubs – Get in on the Big Firkin Deal (Agency: JAN Kelley Marketing)
Shoeless Joe′s Limited – Tradeshow Booth Display (Agency: As You Like It Marketing)
Transit / Bus Shelters / Outdoors
Booster Juice – Tough Workout (Agency: Windship International)
Panago Pizza – GO Station Posters (Agency: Mercer Creative)
Outback Steakhouse – Steak Knife (Agency: The Brainstorm Group)
For more information about the Frankie Awards and the CFA National Convention visit www.cfa.ca
About the Canadian Franchise Association (CFA)
With almost 500 corporate members nation-wide, representing many of Canada′s best-known brands, the Canadian Franchise Association is the National Voice for Canadian Franchising and works with all levels of government to ensure the development of industry-made solutions. CFA promotes ethical franchising and educates Canadians about franchising
For more information contact
:
Kenny Chan
Assistant Manager, Communications
Canadian Franchise Association
Phone: 416-695-2896 x 232
Email: kchan@cfa.ca
Website: www.cfa.ca
Topics: