Sources Bookshelf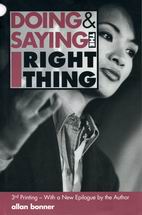 Doing & Saying the Right thing
Bonner, Allan
Publisher: Sextant Publishing, Edmonton, Canada
Year Published: 2004
Pages: 136pp Price: $24.95 ISBN: 0-973134-1-3
Please see our media profile in
Sources
:
Allan Bonner Communications Management Inc.
Recently used as a text in five intensive courses at Osgoode Hall Law School, and in its 4th printing. This is Allan Bonner's first book, originally sub-titled "Professional Risk and Crisis Management." See the concepts that he advocated when this went to press days before 9/11 and how they apply today. There's a new epilogue by the author and the 4th printing contains a new audio and DVD bibliography.
Subject Headings
---

Sources is a directory for journalists, writers, news editors, researchers. Use Sources to find experts, media contacts, spokespersons, scientists, lobbyists, officials, speakers, university professors, researchers, newsmakers, CEOs, executive directors, media relations contacts, spokespeople, talk show guests, PR representatives, Canadian sources, story ideas, research studies, databases, universities, colleges, associations, businesses, government, research institutions, lobby groups, non-government organizations (NGOs), in Canada and internationally.
© Sources 2021. The information provided is copyright and may not be reproduced in any form or by any means (whether electronic, mechanical or photographic), or stored in an electronic retrieval system, without written permission of the publisher. The content may not be resold, republished, or redistributed. Indexing and search applications by Ulli Diemer and Chris DeFreitas.